Centurian Community Support Center kickoff rooted in goodwill
Brittney Gathen, Special to The New Tri-State Defender | 7/28/2017, 11:54 a.m.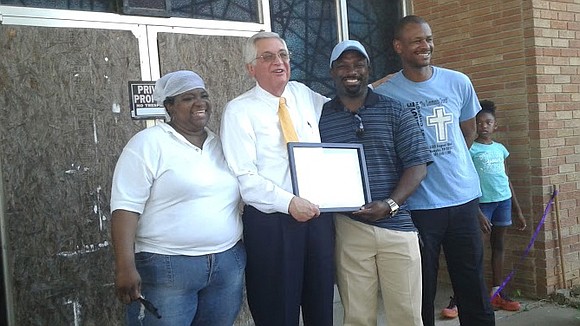 Memphis community stakeholders and volunteers recently gathered in Frayser, in front of the Centurian Community Support Center (3282 Millington Road) to participate in the center's kickoff event.

Volunteers helped to plant flowers, cut the grass and clean up the area near Centurian.
The purpose of the center will be to educate, empower and embrace the Frayser community by providing social services for families. Once open, the center will offer programs such as after school/educational programs, family counseling, mentoring, drug/alcohol counseling and financial literacy programs.
At the kickoff, Cynthia Pulliam, founder of Centurian, and Pastor DeAndre Brown of Lifeline to Success, presented Judge Larry Potter, who helped to create the Memphis Environmental Court, an award for his dedication to the Memphis community.
Potter emphasized the important role that unity is going to have to play in the center's future success.
"When we work together, dreams come true," Potter said. "This is the beginning, and from here, we go up. I want you to pray for Centurian, and I want you to pray for Frayser."