Toward a more diverse tech sector
Tech Jobs Tour rolls into Memphis.
Brittany Fitzpatrick, Special to The New Tri-State Defender | 7/27/2017, 1:47 p.m.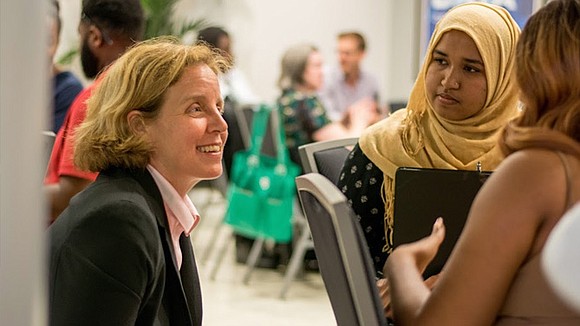 "Everybody wants to be part. Everyone wants to be needed. So how is it with "Artificial Intelligence" and data science and these kind of these coming at us, some people are feeling less and less included and some people are feeling more and more included? And what can we do to community organize ourselves to include more people so that we're really tapping into the greatness of humanity?" – Megan Smith
Megan Smith, 3rd Chief Technology Officer of the United States of America during the Obama administration, addressed a diverse crowd of Memphis' innovators and changemakers Tuesday evening at the FedEx Institute of Technology during the Tech Jobs Tour networking and speed mentoring event.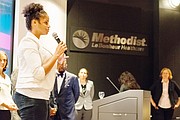 The Memphis stop is part of Tech Jobs Tour's 50-city trek to connect "diverse and non-traditional tech talent with companies who need their skills most." The organization's website puts the goal this way: "push the industry towards a higher standard, a technology sector that is representative of the people who live in this country."
According to the U.S. Census Bureau, by 2040 the demographics of the United States will more closely resemble those of Memphis, with people of color making up the majority of the population at roughly 40 percent. Mitali Chakraborty, Tech Jobs Tour's Chief Experience Officer, says the U.S. currently has more than 500,000 open tech jobs. When read together, one can rationally create a link between these two stats, concluding that people of color are key to the continued growth of what's been dubbed "the innovation economy."
However, Black and Latinx people continue to be excluded from the tech industry at alarming rates.
Here are some key stats. While Black and Latinx people earn nearly 20 percent of computer science bachelor's degrees, they make up only 5 percent of the technical workforce at top tech companies. Only 1 percent of venture-backed tech companies have a Black founder. And, although Black women are the fastest growing group of entrepreneurs in the country, Digital Undivided's Project Diane study found that these companies raise an average $36,000 in funding.
I'm among the mere 88 Black women who have raised over this amount for a technology startup. For comparison, the typical failed startup, most often led by white men, usually raises $1.3 million in backing.
Why should we care?
The exclusion of people of color from the tech industry has serious consequences for the future of our communities – especially in Memphis. While Memphis continues to be plagued by a persistent racial wealth gap, the average salary of a tech worker today is more than the median household income of a Black family and a Latinx family combined. The tech sector's high salaries and low unemployment rate provide an opportunity for Black and Latinx communities to build generational wealth and make us stronger contributors to our local and national economies.
As Jay-Z rapped in his latest album "4:44":
There was a time America wouldn't let us ball
Those times are now back, just now called Afro-tech