Derrick Rose signs one-year deal with Cavaliers for $2.1M
theGrio | 7/25/2017, 9:56 a.m.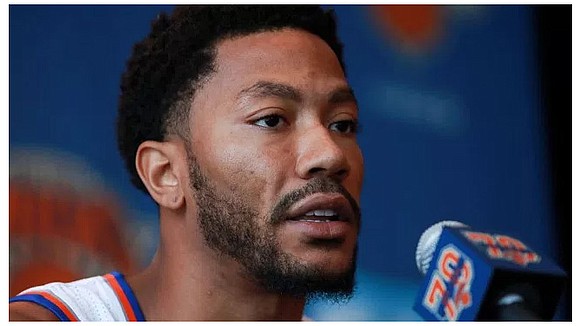 Derrick Rose is reportedly signing with the Cavaliers after being with the Knicks for only a year.
According to The New York Post, the deal is for one year and will net Rose $2.1 million. It was reportedly finalized after Rose met with the Cavs on Monday, and it is expected to be officially announced as soon as Tuesday.
Rose spent a year with the Knicks after a trade deal that then-president Phil Jackson made with the Bulls that also saw Robin Lopez and Jerian Grant leaving for the Bulls. However, Rose spent a good deal of his one year with the team out because of an injury after suffering a torn left meniscus. He missed the final eight games of the season because of that injury and underwent arthroscopic surgery on April 5.
While Rose missed a total of 17 games last season, perhaps the most infamous was the game against New Orleans in January in which he did not tell the Knicks he was flying home for personal reasons until after the fact.
He also took a hit when he had to attend a civil sexual assault trial, though a Los Angeles jury ultimately cleared Rose. Despite all this, he reportedly claimed that he wanted to return to the Knicks, though it looks like that won't be the case after all.