R. Kelly, Usher, Kevin Hart:
Aliya S. King, The Root | 7/22/2017, 10:36 a.m.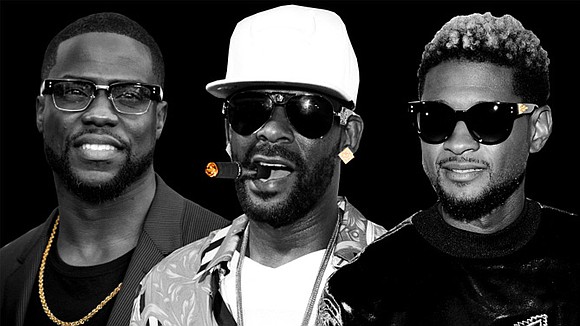 In the late '90s, I was working at an urban entertainment magazine. R. Kelly's career was scorching hot, as it had been since day one, even though by this point the Aaliyah debacle was still on everyone's mind. Did he really marry her when she was 15? Did R. Kelly have her parents' permission? The alleged marriage was supposedly annulled, and many of us in the industry just moved on. We all just collectively shrugged and decided to file that under "creepy R&B stars" and move on.
Except I continued to hear more rumors. In the entertainment industry, we all did. Some of them seemed far-fetched. Many seemed possible and plausible. Let's put it this way: If I'd heard any of the same things about a person in my neighborhood, I would have turned into a supersleuth, gathering evidence and informing law enforcement.
Why didn't I contact the authorities and tell them what I was hearing? Why didn't I do the reporting I did for a living and see what turned up? Why were we all afraid to speak publicly about the things we'd heard? I just knew I didn't want to lose my job. And the magazine I worked for had R. Kelly on the cover often. What was I supposed to do? I didn't know any facts—only conjecture. I kept it to myself.
A few years later, I was assigned a story for another magazine. It was an interview with a young woman who was working with R. Kelly on her music. Her name was Stephanie Edwards, and she was newly signed to Kelly's Rockland Records.
We got on the phone and she introduced herself as Stephanie. I could hear someone who sounded like R. Kelly in the background yell out, "Your name is Sparkle!" She corrected herself and then explained that R. Kelly was nearby to make sure she remembered to refer to herself as Sparkle. Throughout the brief interview, the person who sounded like R. Kelly interrupted her several times. She was pronouncing her name wrong! She was naming the wrong single! She didn't know why he changed her name?!
I was super uncomfortable. She seemed nervous and afraid. He seemed controlling—in an extremely frightening way.
Once again, what was I supposed to do with that information? Call the police in Chicago and say that someone who sounded like R. Kelly may have yelled at a woman on his record label?
Sparkle was off the label a few years later. A friend of mine interviewed her, and Sparkle made it clear that she had a story to tell about R. Kelly—one day. My writer friend didn't press for the details.
A year later, Stephanie "Sparkle" Edwards testified against Kelly. She identified the young girl in a tape that allegedly included R. Kelly as her 14-year-old niece. Many of us in the entertainment industry looked at one another with raised eyebrows. We expected an allegation. Could we have stopped it?
In a different way, the same thing applies to Bill Cosby. I heard rumors about his alleged inappropriate behavior when I was in my early 20s. But again, it was whispers. And again, what was I supposed to do? Research what I heard? Take my thoughts to the authorities? It would be decades before more than 50 women would stand up with almost identical stories—the same stories I'd heard whispered about for years.