Locker Room Talk: What kind of black man will O.J. Simpson be now?
William C. Rhoden, The Undefeated | 7/22/2017, 10:05 a.m.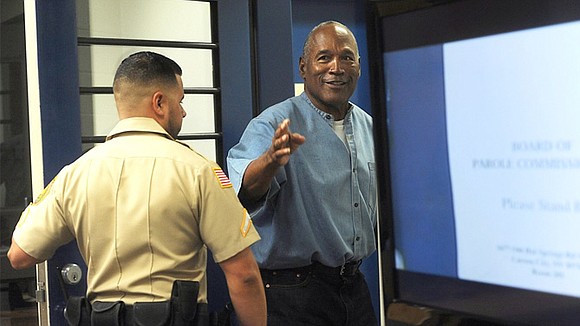 What type of black man will O.J. Simpson be when he gets out of prison?
Simpson was convicted in 2008 of kidnapping, armed robbery and other charges related to a botched sports memorabilia holdup in a Las Vegas hotel room. On Thursday in Nevada, a parole board granted Simpson's request for parole.
So now what? At age 70 and presumably in the fourth quarter of his life, what role will Simpson play? What kind of black man will he choose to be?
When the decision was announced Thursday, I was in a Manhattan television studio with Christopher Darden, the former prosecutor who was part of the team that prosecuted Simpson in the double murder trial of Nicole Brown Simpson and Ron Goldman in 1995. Darden listened intently to Simpson's testimony before the parole board.
When the board gave its unanimous decision, Darden said he was not disappointed but not surprised.
"I think he is more than a subtle reminder of how money and fame provide him and people like him a different standard of justice," Darden said.
I asked Darden what he would like to see Simpson do, going forward.
"I don't know that there is anything positive he can do or contribute," Darden said. "He beat the murders. You would have hoped that would have changed him, that he would have been a changed man, that he would have appreciated his freedom more, that he would have invested in becoming a more positive public figure. He didn't."
Simpson was acquitted of murder charges but was found liable in a wrongful death civil lawsuit.
What kind of black man will O.J. Simpson be now that he has been granted his freedom after serving nearly nine years?
I've asked variations of this question of Simpson for more than 40 years, going back to the fall of 1975 when we first met.
I was on assignment then for Ebony magazine, which I had joined a year earlier as an associate editor. My assignment was to spend a week in Buffalo, New York, with O.J., who at the time was completing his seventh season with the Bills. Despite the passage of time, a couple of scenes and conversations stand out.
I remember playing the card game bid whist on Simpson's living room floor and talking a lot of trash. Don't ask me why that stands out, but it does. Perhaps because playing whist has always been one of those superficial but real measures of blackness. Given the debates surrounding the depths of Simpson's blackness, that was revealing.
What also stands out — and this is particularly relevant to the arc of Simpson's life — were our conversations around the politics of change and transition. I was two years into my career with Ebony; Simpson was winding down his pro football career and was transitioning into acting. Two years after the story was published, Simpson was traded to San Francisco, where he ended his Hall of Fame career.
Other than Muhammad Ali, Simpson was the most prominent athlete of his era, certainly among black athletes. He was the clean-cut, clean-shaven star who married his high school sweetheart, with whom he had three children. Four years after our interview, the youngest child drowned at the family's Los Angeles home while Simpson was in Buffalo.