Go away, O.J. . . .
A diminished Juice brings back all the stains that can't be scrubbed clean.
Lonnae O'Neal, The Undefeated | 7/21/2017, 11:13 a.m.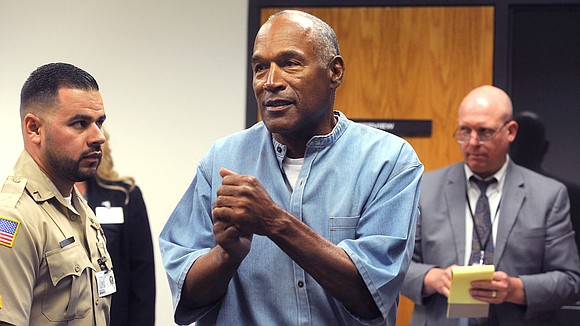 The following first appeared on ESPN's The Undefeated.
After O.J. Simpson's hearing before the Nevada Board of Parole Thursday, these were the options: He could go back to jail or he could go free.
Now that he has been granted parole, making him eligible for release in October, what we really need is for Simpson to go away.
Simpson, 70, is serving a nine- to 33-year sentence for a botched 2007 armed robbery to recover sports memorabilia from a Las Vegas hotel room. For many Americans, who believe he got away with murder in the 1995 "trial of the century," where Simpson was acquitted of killing ex-wife, Nicole Brown Simpson, and her friend Ron Goldman, it was a proxy sentence. A little cold, off-camera respite from the contradictions of race, class and celebrity that the Simpson ordeal exposed and the convulsions it caused.
I was a new reporter during Simpson's first trial, one of dozens who fanned out across Washington, D.C., to get reaction after the verdict was read. I talked to one high school football player who said, "Now O.J. needs to stay black, for real," and advised him not to "mess with no more white people." None of that happened.
The spectacle of the Simpson murder trial faded, but for more than a decade, O.J. kept showing up. He gave interviews, showed off new girlfriends, tried to climb back into the grace of his Hall of Fame life. He struggled to reclaim that beloved pitchman swagger and the lifetime of cheers, forever disbelieving he had lost all that good white American love he'd been on the receiving end of since his days as a standout running back at USC. He thought he could stand in the middle of Fifth Avenue and shoot somebody and not lose voters. But prison time took him out of circulation, and granted the rest of us a reprieve from grappling with whatever it was we were sure he stood for, or just from arguing with older relatives at the family barbecue who all wanted to share their theory of the case.
Watching the parole board hearing brought back a sampling of the attendant Simpson drama: the cast of courtroom characters, the endless cable analysis, but most of all, Simpson himself. He is a man much diminished, which makes him more painful to watch than I remember.
He has represented all these plate tectonics in the world: excess, hyperbole, sensationalism, lurid headlines. Murder and domestic violence. He's a reminder of the sanction of poverty and the triumph of celebrity. He's the subject of TV series and award-winning documentaries and even so, it appears there is more to unpack and I don't want to. We've already been waterboarded by all of that.
This was Simpson in micro. I looked at this old man who was still trying to conjure some of his old charm, but kept catching himself, realizing he doesn't have the same currency, the same "Here comes the Juice!" ways. But he was using what he had left to make itty-bitty points that are important to his life but don't stand for anything else — his classes in computer application to communicate with his grown kids, and shortcomings around regularly attending church services. He used to be this icon, running through airports in a white America that would never want to shoot him, and now he was partially relitigating his case at a parole hearing, talking about a gun he didn't see but felt bad about anyway.