SCLC eyes entry into the rap game
Hip-hop project among expected highlights at convention.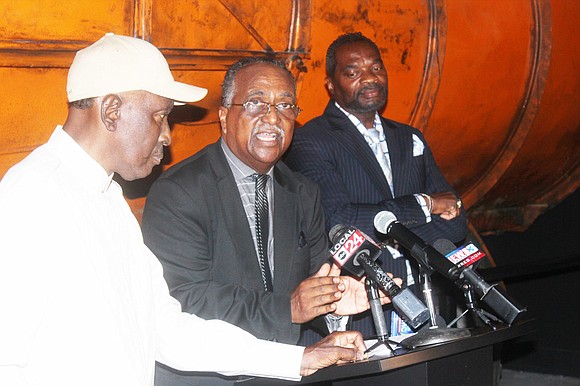 The Rev. Dr. Charles Steele wants the organization he leads, the Southern Christian Leadership Conference, to take over the rap game – sort of.
At a press conference on Tuesday, the SCLC President teased a few of the expected highlights of the historic Civil Rights organization's convention in Memphis this week. And while he would not divulge which artists or producers he is partnering with, he was adamant: SCLC is about to enter the hip-hop arena – by launching a label.
No joke. It's going to be called SCLC Sounds of Justice.
"We're starting a music entertainment label," Steele said. "Because of the impact of music. It will be all clean music; all motivating music. Music is 80 percent of influence in our society. We have some major artists who have committed to work with us in terms of messaging. And that announcement will be made at our convention."
With the theme, "The Hour is Now To Believe, Empower, Act," SCLC kicks off its 59th annual convention Thursday at the Peabody Hotel. Among the notables to appear: Dr. Marian Wright Edelman, president of the Children's Defense Fund; hip-hop artist and activist David Banner; as well as Chief Immanuel Emoefe, a Nigerian-based oil tycoon.
Several local personalities will also be featured, including the Rev. Dr. L. LaSimba Gray Jr., pastor of New Sardis Baptist Church, WREG anchor Stephanie Scurlock and Fox 13 anchor Ernie Freeman.
Building upon the economic empowerment thrust that its inaugural president, Dr. Martin Luther King Jr., advanced with the Poor People's Campaign, the SCLC of today is focused on economic empowerment for the world's poorest citizens. The organization recently relaunched "The Poor People's Campaign."
It was during the original campaign that Dr. King arrived in Memphis to support the sanitation worker's strike in 1968. It's no coincidence that SCLC chose Memphis for the convention as the city prepares to commemorate the 50th anniversary of King's assassination next spring.
"We're going to do what Dr. King saw 50 years ago, all over again. It's come full circle. Many of us got to be so-called 'free' for a little while. We thought we'd arrived," Steele said. "Well, you arrived, but you got off at the wrong station. Get back on the bus! We're not even halfway there yet. We must collaborate and work together."
As part of that collaboration, Steele is intensely focused on what he feels is an underappreciated and vital part of the movement he seeks to revitalize: accumulating financial resources.
"One thing I know about the Civil Rights Movement: It's a business," Steele said. "And it's got to be run like a business. And you have to know folks who believe in the movement. People don't know Dr. King for raising money. But Dr. King had to raise money to pay the bills. You have to have resources."
He speaks from experience. The SCLC was at the brink of financial collapse when Steele took over for his first term in 2004. His predecessor, Fred Shuttlesworth, resigned that year and reportedly said that "deceit, mistrust and a lack of spiritual discipline and truth have eaten at the core of this once-hallowed organization."