The making of a job fair that heals
TSD Newsroom | 7/20/2017, 11:52 a.m.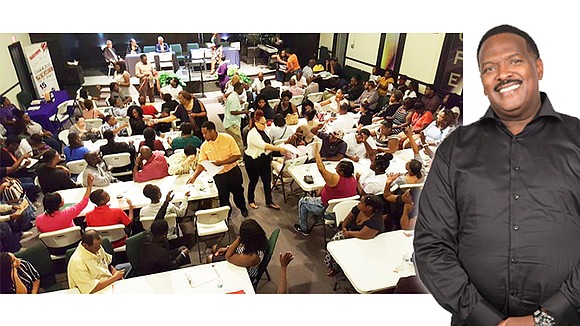 Apostle Ricky Floyd of the Pursuit of God Transformation Center, whose churches are located in the Frayser and Uptown communities, received a call from Human Resource Manager Fannie Wilkins Person at the Sheraton Hotel Downtown Memphis on July 6. She had a question.
Person wanted to know if the Rev. Floyd was willing to host a job fair. She'd seen the works that he and Pursuit of God had done in the Memphis area communities, including successful job fairs.
A partnership emerged and on July 12 at the Pursuit of God Uptown campus at 114 Henry Street a job fair was held with the Sheraton Hotel Downtown Memphis. Also invited were Keyvia Davis and other staff from Metro PCS.
Jackie Sledge of Jani-King saw the response that the job fair invitation was generating and mentioned that she needed 45 employees. So. Jani-King joined up with the job fair effort.
The result? Pursuit of God hosted a full employment service event that put nearly 100 people to work on the spot, with many others were hired over the next week.
Notably, no background checks were required for many of the positions. Some tears were clearly visible because many thought that a "second chance" program was no more than a buzz phrase mentioned during political season.

"We had people that showed up as early as 4:30 a.m. for a job fair that started at 10 am and by 9 a.m. there were no more seats," Floyd said. "We accommodated an estimate of over 400 people in a building that only seats 160."
Floyd dubbed the effort Reputation Evangelism Day, saying the aim was to restore the repetition and rebuild the value of the local church in the community.
Several of the men hired were in classes at Pursuit of God's Frayser Campus as part of Manhood University, a program launched by Mayor Jim Strickland. One of the men secured two jobs.
It was the third job fair effort for Pursuit Of God Transformation Center, with 500-plus people having found employment.