Why this Memphis Spanish teacher loves to teach about the evolution of the piñata
Caroline Bauman, Chalkbeat TN | 7/17/2017, 11:25 a.m.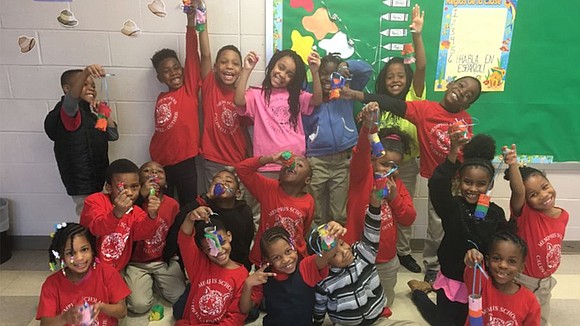 How do teachers captivate their students? Here, in a series we call How I Teach, we ask great educators how they approach their jobs.
Kylie Cucalon, or Señorita Cucalon as she's known to her students, grew up in the United States, but was content to teach English in Spain until she began hearing concerns about political changes happening in her homeland.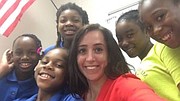 "(I) was heartbroken by everything I was seeing in the news about my country, so I applied to Teach For America in attempt to do my part," Cucalon recalls of her return to America last year.
She wound up teaching Spanish at Caldwell-Guthrie Elementary, a charter school operated by Memphis Scholars. The opportunity is unique in Memphis, where foreign languages typically aren't taught at the elementary level and most of her students come from low-income backgrounds.
In this installment of How I Teach, Cucalon talks about how she's using language to introduce students to a world beyond Memphis, why "uno, dos, tres" are the magic words in her classroom, and how piñatas can be a tool to encourage good behavior.
Why did you become a teacher?
In 2014, I had been working a desk job as a Spanish-English translator and realized that was not what I wanted to do for the rest of my life. So I picked up and moved to Madrid to work as a native English-speaking classroom assistant.
I fell in love with the country and did a bit of traveling. After a trip to Barcelona, I moved there and worked as a private English tutor. During that time, people from all over Europe enjoyed engaging with me and other American friends on issues such as politics and current events. Whenever we would discuss the difficult topics about the faults in some of the systems of our country … my friends would say, "That is why I am never going back to the U.S."
It broke my heart that people I was surrounded by were ready to run away from the issues that our country faced instead of being a part of the solution. I had one really good friend who had just been accepted to Teach For America Memphis and he encouraged me to apply. I was also accepted and placed in the same region as him. It seemed like fate, and I never once looked back.
What does your classroom look like?
My classroom, aka Señorita Cucalon's Zoo, is decked out in an animal theme. Every day I have a "Zookeeper" who wears the safari hat and binoculars and helps me with tasks such as passing out and collecting all papers and pencils.
Fill in the blank. I couldn't teach without my . Why?
Administrators and other teachers. They say it takes a village to raise a child, so what does it take to raise a village?
What is one of your favorite lessons to teach? How did you come up with the idea?
I teach a weekly culture day, and my favorite lesson is the week we make our own piñatas.