MPD, DOJ division probe better police relations
Rallings reflects on bridge shutdown at Hickory Hill community meeting.
Dalisia Brye, Special to TSDMemphis.com | 7/14/2017, 10:09 a.m.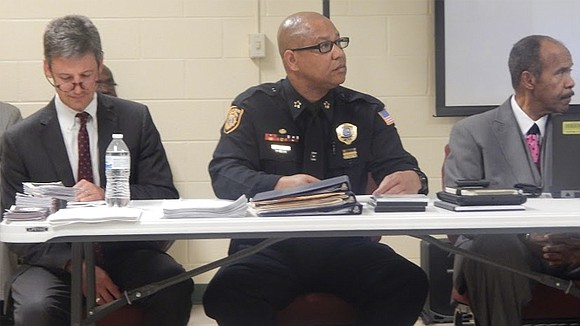 Riding a wave of energy and interest associated with the one-year anniversary of the protest that shutdown the Hernando Desoto Bridge, the Memphis Police Department teamed with an element of the U.S. Justice Department to host a community meeting.
With the focus on identifying solution strategies to better police-community relations, the meeting was held at the Hickory Hill Community Center at 3910 Ridgeway Rd. The Justice Department's Community Relations Service took part in the session, which was crafted to foster productive interaction between law enforcement and citizens.
"We just wanted to let everyone know we hear them, but we need their help too," Rallings said. "It's a two-way street."
The mission of the Community Relations Service is to uncover the underlying interests of those involved in conflict and facilitate a mutual understanding and solutions to the community's challenges.
"People aren't aware that this program even exists," said Walter Atkinson, senior conciliation specialist for the Department of Justice. "The key is to provide resources, so individuals are aware of what to do and how to do it."
The three-hour panel discussion gave youth panelist Mya Davis a chance to say, "I just want them to stop hurting us.
Several officers talked about the use of force and the do's and don'ts when one is stopped by police.
"I would just simply comply," one officer said. "Attitude is also key. It's up to the both of us to make the best of the situation.
Assistant District Attorney Greg Gilbert said, "You can also demand an officer's supervisor to the scene, if it becomes overwhelming."
Gilbert also said, "The first resource I would suggest is getting familiar with the Constitution and knowing your basic rights."
MPD provided a virtual simulator that allowed citizens a firsthand view of what officers go through during a possible crisis that might involve the use of force.
"We want citizens to have an understanding of what we possibly go through on a daily basis," Officer Darryl Banks said.
Rallings said, "Everything starts from somewhere. We must teach our kids the right things to do and it starts at home."
A year ago, Rallings was the interim police director interacting with bridge protesters and walking with them arm-in-arm from the interstate.
That day created Sunday's discussion, Rallings said.
"Walter Atkinson and myself came together with my command staff and talked about what positive things we can do to bridge the gap. After the Greater Imani meeting (the day after the bridge protest), we wanted to continue this conversation, because we do understand.
The best thing that came out the protest, Rallings said, was dialogue. "More people are paying attention now and since we have that attention were just focusing on what we can do to come together."
Reflecting, Rallings said he was happy how everything turned out on that eventful Sunday evening of July 10, 2016.
"I could talk for hours about that day, but I just didn't want anybody to die; that was the main goal," he said.
"A lot of people give me credit for that, but it was actually the protestors. We walked off the bridge. We decided on what we needed to do to resolve the issue. We negotiated that meeting at Greater Imani the following day.
"So it wasn't just me," he stressed. "It was us and that's why we're here again today."