CCC marks bridge shutdown with piercing 'Street Theatre'
Tony Jones, Special to The New Tri-State Defender | 7/14/2017, 10:09 a.m.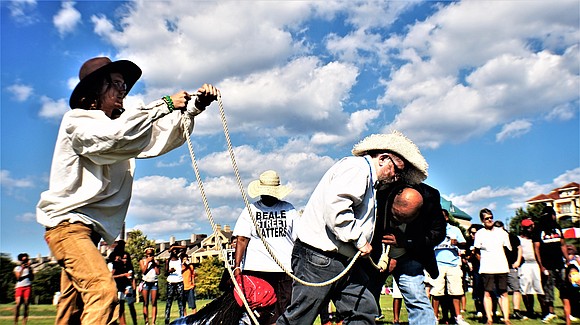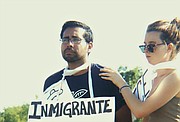 Will it take another wrenching incident such as the assassination of Dr. Martin Luther King Jr. to change the status quo in Memphis?
A street theater presentation by the Coalition of Concerned Citizens (CCC) at Tom Lee Park prompted that pointed question last Sunday.
In commemoration of the protest that shut down the Hernando Desoto Bridge on July 10, 2016, several CCC-affiliated groups presented vignettes illustrating social ills – beginning with the slavery of Africans in America – which they said are not being well addressed by the government or the private sector.
CCC member Al Lewis referenced "low-wage, plantation employment many of us have been sentenced to because of the stack-and-pack economy" and then quizzed the audience of several dozen for other impediments that are not being addressed adequately.
"Generational poverty."
"Hopelessness."
"Institutional Racism."
To that feedback from the crowd, Lewis added "economic apartheid."
Next, members of the Official Black Lives Matter group gave a spoken word and song presentation that was followed by a presentation from Moviemiento Cosecha (MC).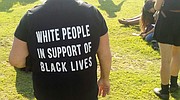 MC members portrayed a couple shopping for groceries at Walmart as an agent from Immigration and Customs Enforcement (ICE) lurked outside. As the husband was arrested and led away to a detention center, actors portraying executives from the Corrections Corporation of America (CCA) and Wal-Mart Stores Inc. smiled and shook hands.
"Immigrants arrested here are taken to Mason Detention Center in Mason, Tennessee, owned by the Corrections Corporation of America (CCA)," Catalina Santiago said. "Wal-Mart invests in CCA and receives profit from thousands of deportations every day. That investment equates to our deportations and our detentions because CCA owns centers across the country."

As did many groups comprising CCC, MC representatives said they were inspired by the bridge movement to connect with CCC. A demonstration is planned for Sunday (July 15) at the "385" Walmart.
The TSD reached out to Wal-Mart through its media portal, with no response by the week's print deadline.
Other elements of Sunday's bridge protest/shutdown included a depiction of police brutality, a dramatization of what Dr. Martin Luther King Jr. would think of Memphis today and several speakers who talked about education and Juvenile Court.
Businessman Dwayne Kyles, part of 21 Beale Street, Inc., the African-American-owned firm that has been stymied in the effort to secure the contract to manage Beale Street, spoke during a period reserved for audience members to express any thoughts. The 21 Beale company won an open bid process twice but has yet to receive a contract.
"I came here just to support this movement," Kyles said. "I point to Beale Street because I think it is a microcosm of what is going on in this city. There is a very, very myopic and self-centered thinking that has led the politics and created the wealth that we see here backed up by an extraordinary level of poverty amongst the majority population of this city.

"If we don't pull together, we're going to see this growing disparity gap," he said. "Violence comes with that, whether it's perpetrated among ourselves or by the police; it comes with poverty."
Kyles said he was hoping that the coalition movement was a time for people to check in.
"It has been a fractionalized process, but I think it's a sign of growth," he said. "Your presence here suggests that you are prepared to put in the time to make things happen."