#ACCESS901: Century House building toward social club debut
Anton Mack has a vision and a story that intersect in a restoration project on target for its debut this fall.
Joy Doss, Special to The New Tri-State Defender | 7/14/2017, 10:10 a.m.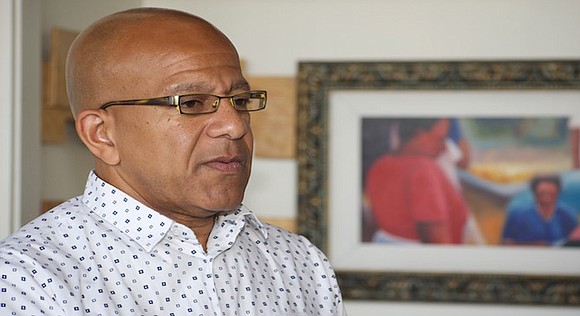 I have been to the Century House on a couple of occasions, the latest of which was a tasting event hosted by one of my go-to caterers, Melissa Swearing (Country Chic Chef). The building caps the once storied Film Row – the historic block on Vance where all of the major film houses had distribution hubs that served the entire Mid-South area.
Film Row began to peak in the 1920s then faded sometime in the 1960s as downtown theaters closed and people began their "flight" to the suburbs. In 1940, 20th Century Fox made the Century House its Memphis home. It lay derelict for a decade before Anton Mack came into the picture.
Mack, who is experienced in restoration, bought the Century House with that in mind. Much of the original detail has remained intact – beautiful molding, trims and floors. Despite its state of neglect, including over 50 broken windows, Mack could see the vision. And he has a really cool story!
The vision
Mack is actively working to convert Century House into a private social club, with annual memberships that specifically target entrepreneurs, people with international interests and the broader Memphis community.
"I think there is a demand and a need for a social club downtown that has a lively vibrancy…not based on age but energy and creativity," Mack said. "I don't envision oak-paneled walls…but instead a lively atmosphere, with music…always a bar of course and fresh ideas."
No stale racquet club, har-de-har, flesh pressing set. Y'all know what I mean! It's the antidote to snoozapalooza and the same-ole. This is progressive and politic, where global citizens can come together to have a good time in a warm and welcoming space, host meetings or small gatherings, plan world domination
or simply attend special events hosted by the club.
Though he is not from Memphis, Mack visited often, which provides him with a distinct perspective. It's a
perspective that includes both familiarity and a respectable distance, which is an advantage in being a part of Memphis present and Memphis future. In building out the vision, he seeks to answer in part, what does Memphis want to be?
"I want to be in the future where Memphis is headed. I want to bring people into the vision, but not kicking and screaming."
This venture (the private social club) is for those who see the bigger picture.
The story
By day, Mack owns and operates a consulting firm, Renaissance Global Advisors, where he is a career counselor with clients across the U.S. and some in Europe. He helps people find and define their essence and international companies bridge communication gaps. Asked about his own essence, he speaks about taking great joy in nurturing people and ushering them to self-actualization.
Mack has the gift of seeing the potential in people and business. He is not lacking in credentials. At. All. He has a graduate certificate from the Harvard School of Education, a bachelor's of arts degree from Johns Hopkins and an MBA from Ecole Superiore Commerciale de Paris (ESCP Europe). He has worked in admissions at Johns Hopkins and Loyola Marymount, as well as the managing director of recruiting for a 1,000-plus member international law firm, eventually moving to managing director of Diversity and Global Talent.