#MLK50: Sanitation workers of '68 get retirement help
Montee Lopez, Special to The New Tri-State Defender | 7/13/2017, 1:02 p.m.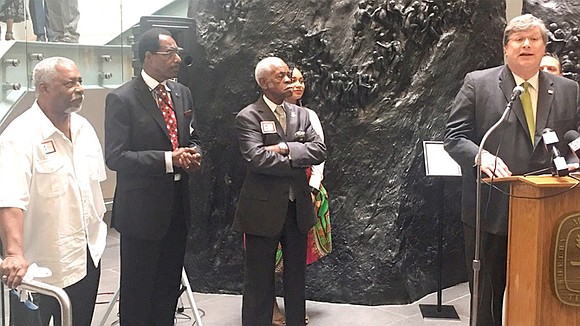 The Memphis City Council on Wednesday approved Mayor Jim Strickland's call for $50,000 grants to help sanitation workers from 1968 retire with less worry.
Council members also embraced the mayor's move to help current and future workers in what now is called the Solid Waste Department.
"What we've done is help close that gap as much as we can in some ways, so that they ('68 sanitation workers) can retire early, if they so chose," Memphis Public Works Director Robert Knecht said.
The money to cover the grants first announced at the National Civil Rights Museum last Thursday will come from the City of Memphis' Reserve fund. The total is approximately $910,000 – $700,000 for the grants and an estimated $210,000 for federal taxes.
"The 1968 sanitation workers changed our city for the better through their courage and resolve, yet they've never had the financial security that other city employees enjoyed," Strickland said at the announcement. "It is never too late to do the right thing."
Shouts rang out at the NCRM during the announcement.
"Heroes!" "Well Worth It!
The grants affect 14 living sanitation workers from 1968. Out of the 14 alive, 10 have retired, with four still on the job.
As Strickland detailed the move to bring about that financial security, some of the surviving sanitation workers stood nearby.
Represented by Local 1733 of the American Federation of State County and Municipal Employees, the workers, who sought union recognition, went on strike in 1968 after two workers were crushed to death in the back of a garbage truck. They were fed up with working conditions they associated with the deaths.
Dr. Martin Luther King Jr., then president of the Southern Christian Leadership Conference, joined those supporting the striking workers. He had journeyed to Memphis in that role when he was assassinated on April 4, 1968 at the Lorraine Motel, which is the focal point of the National Civil Rights Museum.
The union recognition did not come until after King's death.
At 85, Elmore Nickleberry is still on the job. During the announcement, he talked about how much the grant is helping give him peace of mind.
"I don't know when I'll retire," Nickleberry said. "But it's nice to know something's there."
Many of the surviving sanitation workers chose to live off Social Security instead of the city's retirement program. They get about $1,400 a month, just a little more than $16,000 a year.
Also backed by the Council was Strickland's creation of a supplemental retirement program for post-1968 Solid Waste Department employees, who do not participate in the city's pension plan. (In 1990, the Sanitation Division became the Solid Waste Department.) Depending on years of service, the city proposes to provide up to a 4.5 percent match of employees' contributions to a 404(a) plan. The idea is to supplement the workers' existing Social Security and deferred compensation programs.
The issue of sanitation worker retirement has been a tangled web for nearly 50 years. Two key elements have been Local 1733's decision in 1968 to opt out of the city's pension plan, preferring Social Security; and the fact that federal law does not allow units of employees to leave the Social Security program once they've entered it.
Alex Smith, chief human resources officer for the city, said, "our administration was able to develop an innovative solution to address this challenge for current and future employees with Social Security benefits. …
"In addition to the grants and new retirement program, we are also enhancing our retirement planning and education services in partnership with Operation HOPE to help our workers be able to effectively save and plan for retirement, providing them the financial dignity they deserve," Smith said.
"We're making strides," Knecht said. "We're getting back to where they were with raises and other benefits. I hope they see everything we're trying to do….
"I think we're going to have to communicate with all our employees on what we've done," Knecht said. "It's going to take time to get everyone in."