HAVE WE MADE PROGRESS?
Montee Lopez, Special to The New Tri-State Defender | 7/13/2017, 1:03 p.m.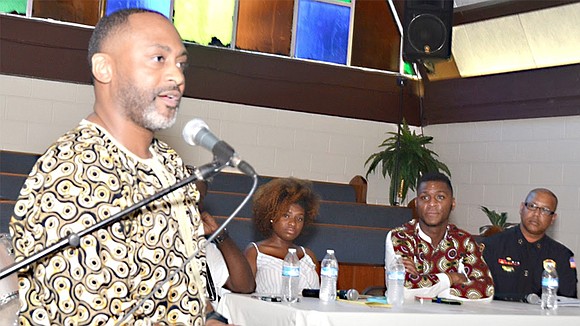 "It's ignorant to think that we can make change in one day, one week, one year, and with one group."
Pastor Earle J. Fisher said those words during the Bridge Protest Forum I organized on behalf of the Memphis Association of Black Journalists at his church – Abyssinian Baptist Church – on Monday night.
I invited Devante Hill, Erica Perry, Keedran Franklin, Wendi Thomas and Memphis Police Director Mike Rallings to share their thoughts. Each have a profound effect on social justice in Memphis – even if some weren't on the Hernando-Desoto Bridge the night of July 10, 2016.
The goal was to have a positive and productive conversation about where we've come since more than 1,000 people marched onto the bridge and blocked the flow of I-40 traffic heading into West Memphis.
And the conversation was productive; sort of. About 100-plus people came out to hear and share their thoughts.
Have we seen change?
If you ask me, a little. Not a lot; but a little.
People, especially our city leaders, have taken notice to the social injustices we see in Memphis everyday. Blatant racism is being called out, elitism is being shut down, police relations are slowly but steadily getting better. To many, it's a start.
In my opinion, which is unpopular to many, you have to give it to Mayor Jim Strickland. He's trying.
With the community's help, the mayor has been able to introduce summer programs, job initiatives, etc. No one expected him to get it 100 percent right because there's going to be someone who disagrees with you.
Is there a disconnect?
Yes. Even as a reporter, when interviewing Strickland, I've often felt as if he's trying to paint a picture of Memphis that just doesn't exist – like putting make-up on a pig. I'm not calling our city "sloppy" per se. But there are imperfections that need to be worked on within instead of focusing on the outer image.
We can't completely rule out the Shelby County Government? I am so proud of those who stood up against the request that Shelby County Mayor Mark H. Luttrell Jr., Sheriff Bill Oldham and Juvenile Court Judge Dan Michael made to the Department of Justice to end federal oversight of Juvenile Court. And especially so with the latest oversight reports black boys and girls are STILL being mistreated while in custody.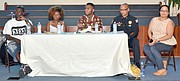 Turning my attention to local activists crying for change, the question is whether they are doing their part. Yes, some are.
They're staying in constant contact with elected leaders, they're working in their communities, holding those in power accountable.
Then, there are the showboaters – those going about seeking social justice reform the wrong way such as harassing city leaders and their families.
I applaud the vigor. But where is the focus? What's the overall goal? What's the plan of action? We should have left with a plan of action Monday night to take to our leaders. As the organizer, I'll accept fault in that.