Frank Gottie emerges as unlikely activist, hero
Tony Jones, Special to The New Tri-State Defender | 7/13/2017, 1:02 p.m.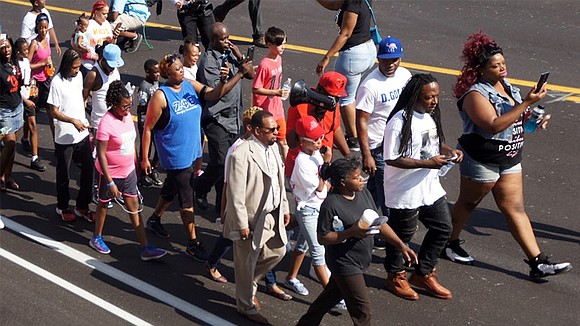 When Frank Gibson was a younger man, he went the way of many other young men in Memphis and elsewhere, choosing to take on a new name – Frank Gottie – to buff up his identity as a street gangster.
Last Tuesday, the self-made tough guy was called before the Memphis City Council to be presented a proclamation. Sponsored by District 4 City Councilmember Patrice Robinson, the resolution calling for the honor detailed Gottie's contribution to bettering the city. It came exactly one year to the day after he surfaced as an inspirational force that contributed greatly to marching protesters' shutdown of interstate traffic on the Hernando Desoto Bridge.
The protest gave voice to anger about fatal police shootings of African-American people, as well as dissatisfaction relative to other issues the protesters associated with the difficulty of improving the quality of their lives. From it emerged the Coalition of Concerned Citizens (CCC), an umbrella voice for community-based organizations many hope is the new face of civil rights in Memphis.
The CCC collective staged a protest at Graceland that gained worldwide attention. They met with Greater Memphis Chamber officials after protesting outside the group's downtown office. And they've met with Mayor Jim Strickland.
To mark the anniversary of the bridge protest and as part of the Put The Guns Down, Fight Like A Man Movement, Gottie on Sunday led a contingent of youths and adults on the "The March For Kids" Sunday from Robert R. Church Park to City Hall. The New Tri-State Defender spoke with him shortly after receiving the City Council honor.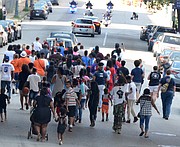 "What it means for me is that I've been going in the right direction," Gottie said. "I'm not letting my people down, and this proclamation shows that we've been in the neighborhood doing the right thing."
Extended largely through social media, the Put The Guns Down, Fight Like A Man Movement is resonating with more people, he said.
"Kids reach out to me on Facebook, in the streets, at the grocery store, stopping and thanking me for everything I'm doing. I just tell them to respect their parents and their elders, and keep up the great work and they'll live longer."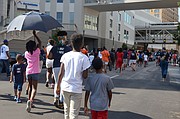 Sunday's march was a team effort with a focus on kids, he said.
"It's not about us, it's about these kids. We wanted to show the mayor that these kids need to be heard."
Now 34 and with children of his own, Gottie counsels them and the children that he meets that faith in God and education is crucial. Critics who say today's kids are not taking advantage of what life offers need to dig a bit deeper, he said.
"I feel like the teachers should be paid more because they go through a lot with our kids, and I think prayer needs to be back in our schools," he said.
"The schools can't go into these kids' homes. Parents have got to get more involved with the schools and I think things will improve with the school system. We need to start putting these differences behind us and start working together more for these kids."