Don't tell me the bridge protest was ineffective
I was there!
Dalisia Brye, Special to The New Tri-State Defender | 7/13/2017, 1:03 p.m.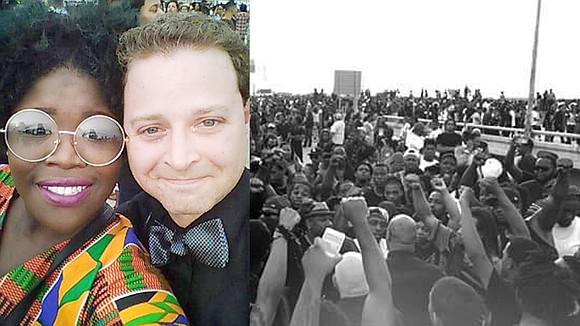 Around the time that the deaths of Philando Castile and Alton Sterling – two more black men killed by law enforcement officers – rocked the nation's core, I'd officially had enough.
As a mother to a then 2-year-old black son, it was time I stood up for his future. There were so many things that I wanted to do but I had not put action to any of my thoughts.
Then July 10, 2016 happened.
After a typical start to my Sunday, I received via Facebook to meet up downtown and I knew immediately that I had to be there. Although there were KKK rally rumors, something in my spirit just advised me to be in attendance. I laced my sandals, fluffed my Afro and made a dash to the FedExForum.
Upon my arrival, there was a small gathering of protesters focused on Minister Devante Hill, a young man who was talking to a receptive crowed about unity, love and peace.
Promptly at 6 p.m. the march started. Something about the energy immediately changed. As we began to walk you could feel an overwhelming sense of empowerment. We began to chant. I looked over my shoulder and what began with about 100 people doubled quickly. went from one-hundred people instantly doubled. Customers and business owners came out of their respected places show support as we passed through Downtown Memphis.
Getting to the Hernando-DeSoto Bridge over the Mississippi River was like an amalgamated game of chess and checkers. For a while, it seemed we were ahead of the game, but then the Memphis Police Department (MPD) began beating us to every corner.
We came to a halt at an intersection, standing face to face with a MPD SWAT team. You could feel the intensity from the crowd as demonstrators suddenly blindsided the police, making a dash for the I-40 bridge exit.
Out of breath and sweating, we finally made it to the top of the bridge. It literally felt like we had climbed a mountain and the view at the top was amazing!
Completely stopping the flow of interstate traffic, there were people jumping for joy. Many began to hug and cry.
I remember the chant: "We made it!"
We all knew that what we were doing was historical.
I noticed a young Caucasian man with tears in his eyes. I couldn't help myself as I went over to hug him. He cried on my shoulder as he expressed his empathy for African-Americans and the struggle against injustice.
"It's so wrong," he said.
I held his hand as we continued to celebrate.
Two hours in, and as the sun began to set, the crowd began to dissipate. While there were still some demonstrators, others began to head to their homes. Upon my exit, I noticed a small group of men and women holding hands with then-Interim MPD Director Michael Rallings.
I ran to the crowd and grabbed a hand as I left the interstate. With his move, Rallings instantly became a heroic figure for many us, embracing the numerous hugs directed his way.
"We finally have someone that understands us," Virginia Richardson, one of the protesters. "Today was beautiful."
Once I reached my car I cried like never before. For once in my life, I stood up for something in hopes of making my son proud.
Although some say the bridge protest was ineffective, being there makes such a claim ring hollow. On that fateful day one year ago, a different side of Memphis surfaced. It was a feeling I'll never forget and I'm glad I contributed to it.