There's more to Jarrius Robertson than superfandom
The 15-year-old Jimmy V Perseverance Award recipient is transforming lives through organ donation awareness
Maya A. Jones, The Undefeated | 7/11/2017, 11:53 a.m.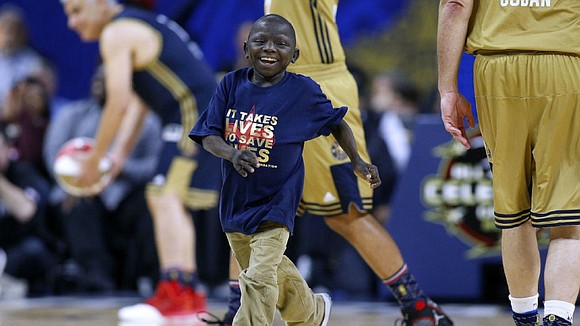 When Jarrius was 1 year old, Jordy Robertson remained hopeful that the liver transplant his son was about to receive would be the cure for his illness. Instead, what was supposed to be a time of celebration turned into Jordy Robertson's worst nightmare.
Jarrius successfully made it through his first liver transplant. But after surgery, the 1-year-old aspirated, causing fluid to be drawn into his lungs.
"He never made it out of the [operating room]," Jordy Robertson said.
Jarrius was placed in a medically induced coma for a year. A ventilator moved air in and out of the small boy's lungs, working to breathe for him. Weeks passed before doctors delivered the crushing news to Jordy Robertson that Jarrius' progression had significantly decreased. There was nothing more the hospital could do for his son.
"As a family, we signed the papers to not revive him," Jordy Robertson said. "But once they unplugged him from the ventilator, the doctors said, 'Hey, this kid is breathing.' They placed the bag on him and rushed him straight into a room and went to work from there. It was a great moment."
Since then, Jarrius, who stands a little under 4 feet tall and weighs 52 pounds, has undergone 36 surgeries and two liver transplants. Yet, none of his medical emergencies has dampened his spirit.
"His personality, he gets it from being his age and his size and having the heart that he has," Jordy Robertson said. "He's got the heart of a lion but the body of a baby. But if there was a war right now, he'd say, 'Dad, put me on the front line and let me go.' He's a brave person with courage and understanding."
Besides spreading awareness about organ donation and chronic illness, Jarrius has picked up several famous friends, including Saints quarterback Drew Brees, running back Mark Ingram and defensive end Cameron Jordan, all of whom have been on the receiving end of Jarrius' tough love and advice to better themselves as football players.
"They don't challenge me because they know around there, I'm the boss," Jarrius said.
Jarrius met Saints players for the first time in December 2015 during their annual visit to Ochsner Hospital for Children in New Orleans, where he was being treated for gastrointestinal bleeding. Right before Jarrius was set to be discharged, players walked the halls in their plush red and white Santa hats, giving gifts, taking pictures and chatting with the kids.
"I was happy and excited since I'd never met them before," Jarrius said. "[Saints punter] Thomas Morstead changed our lives," Jordy Robertson added. "The hospital partners with his foundation, What You Give Will Grow, and this is how we met them. He was the one who offered us tickets to the game where we could be on the sidelines."
Although Jarrius sometimes faces complications that cause minor setbacks, they aren't enough to keep him down for long. Most days, just as any other teenage boy, Jarrius prioritizes video games and family fun over rest. Jordy Robertson laughed while partially placing blame on ESPN analyst Randy Moss for Jarrius' intermittent sleep patterns.