There's more to Jarrius Robertson than superfandom
The 15-year-old Jimmy V Perseverance Award recipient is transforming lives through organ donation awareness
Maya A. Jones, The Undefeated | 7/11/2017, 11:53 a.m.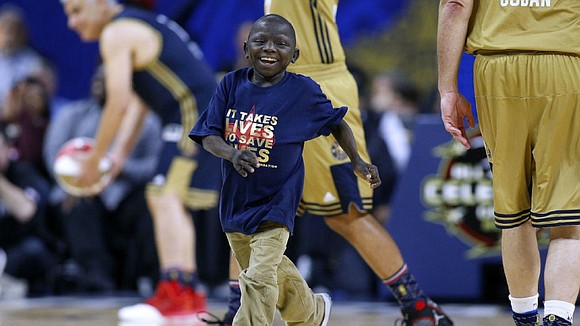 The following first appeared on ESPN's The Undefeated.
In the past year, New Orleans Saints superfan Jarrius Robertson has made more appearances than even he can count.
First there were Saints games, Saints training camps, interviews with players and coaching, where Jarrius' playcalling often rivaled — and debatably fared better than — that of head coach Sean Payton. Last year, after signing a contract to become a Saint, Jarrius bounced from city to city, appearing everywhere from the Good Morning America studios in New York City to the NBA All-Star Game in New Orleans. But no matter where he is, Jarrius never forgets to spread the message that "It Takes Lives to Save Lives" in order to bring awareness to the importance of organ donation.
It was only fitting that the charismatic 15-year-old was chosen to be the recipient of this year's Jimmy V Perseverance Award at The ESPYS for the strength and courage he has displayed while battling biliary atresia, a rare, chronic liver disease that affects the bile ducts, beginning at infancy.
"It feels good because I get to go down with some of the greatest people, and it's a big opportunity," Jarrius said of the award.
The announcement came just two months after Jarrius' second liver transplant surgery, which has been helping him get back to everyday activities that he was forced to give up because of the illness.
"Recovery is going good because I can do all the things I couldn't do with my old liver," Jarrius said. "I'm eating better and playing and going outside."
The outpouring of love and support Jarrius has received is something his father, Jordy Robertson, is still getting used to. But he is grateful for the opportunities Jarrius has to speak for other kids who are battling chronic illnesses or waiting to receive an organ. There was a time Jordy Robertson wasn't sure his son would make it past 1 year old.
Jordy Robertson and Jarrius' mother, Patricia Hoyal, became parents when they were teenagers.
"We were young," said Jordy Robertson, 34. "We didn't know nothing. But as a father, I stayed by his side because this was my first kid. I was so excited, not knowing what I was about to be faced with."
Jarrius, who appeared to be healthy at birth, was diagnosed with biliary atresia at only 4 weeks old. The rare disease affects about 1 out of 18,000 infants and can cause slow weight gain and stunted growth. Jordy Robertson ended up missing most of his senior year just to be by his son's side.
"The principal gave me a call and said, 'Hey, if you could pass this test, you can walk with your class and get your high school diploma,' " Jordy Robertson said. "I studied hard that week, aced that test, and when they asked if I was ready to walk with my class I said, 'I don't want to walk with my class. I have to run to the hospital.' I got my diploma, and I ran."