5 breakfast smoothies to shrink your belly
BlackDoctor.org | 7/11/2017, 11:08 a.m.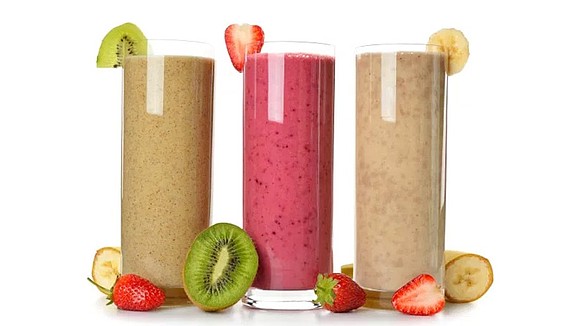 That morning cup of coffee may not be doing your waistline any favors if you like added flavors, sugar, and cream or milk. Instead, try one of these five breakfast smoothies to jumpstart your day and help melt unsightly belly fat.
Chocolate-Covered Almond Smoothie
Benefit: For only 450 calories, you'll get a healthy dose of protein and essential nutrients
Ingredients
1 cup almond milk or coconut-almond milk
1 teaspoon unsweetened cocoa powder
2 tablespoon protein powder
1 tablespoon almond butter
1 tablespoon flaxseed oil vanilla
2 dates
½ banana
½ cup ice
Directions
Combine all ingredients in the order given to the blender. Blend until smooth. Add a few ice cubes if you prefer a cooler smoothie. Serve and enjoy!
Peanut Butter and Banana Smoothie
Benefit: For just over 400 calories, you'll get 19 g protein and 3 g fiber
½ cup fat-free milk
½ cup fat-free plain yogurt
2 tablespoon creamy natural unsalted peanut butter
¼ very ripe banana
1 tablespoon honey
4 ice cubes
Directions
Combine milk, yogurt, peanut butter, banana, honey, and ice cubes in a blender. Blend on high until smooth. Pour into a tall glass and serve.
Tropical Fruit Smoothie
Benefit: For under 400 calories, you'll get 8 g protein and 5 g fiber.
1 ½ frozen mango cubes or peach slices, slightly thawed
1 cup huled, halved fresh strawberries
1 cup fat-free vanilla yogurt or light vanilla soy milk
½ cup chilled mango nectar
1 tablespoon frozen pineapple juice concentrate, slightly thawed
2 tablespoons flaxseed oil
Directions
Place mango, strawberries, yogurt, nectar, and juice concentrate in blender. Blend until combined and smooth. Add oil and blend; only to combine. Pour into 2 glasses, garnish each glass with a strawberry and serve.
Blue Ginger Smoothie
Benefit: Great for a boost of plant-based protein.
1 cup frozen blueberries
¼ cup whole Brazil nuts
1½ cups filtered water
2 teaspoon chlorella (in powder form)
1 large handful spinach
One 2-inch piece ginger (about 1 tbsp), peeled and finely grated
1 tablespoon coconut oil
3-4 tablespoons (approx. 37.5-50 grams) protein powder
¼ cup almond milk (optional; add for a creamier finish)
1 sprig of mint leaves (optional)
Directions
Add all the ingredients in the order given to the blender. Blend until smooth. Garnish with a sprig of mint leaves if desired.
Tip: If you prefer a lighter bite of spicy ginger, start with 1 tsp and add more as you desire for just the right kick.
Cucumber Watermelon Smoothie
Benefit: Perfect for ultra-hydration on hot summer days.
1 cup coconut water
1 small organic cucumber
1 cup frozen watermelon
2 leaves of organic dinosaur (also called Lacinato and Tuscan) kale
1/2 a lime
7 leaves of fresh mint
Directions
Combine all ingredients in a blender. Mix until smooth. Enjoy!