The shutdown - one year later!
Progress – or the lack there of – and what to do next will drive several public discussions and events associated with the anniversary of the protest that shutdown the I-40 bridge.
Montee Lopez, Special to The New Tri-State Defender | 7/8/2017, 12:41 p.m.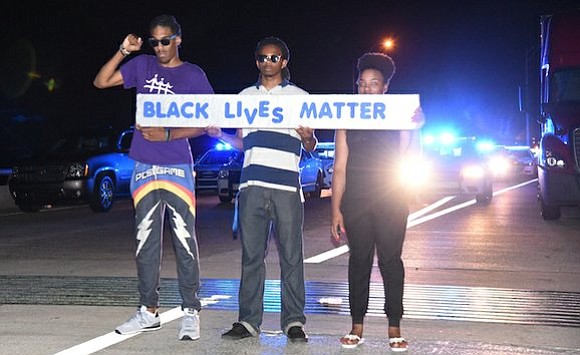 A year ago Monday (July 10), former gang member Frank Gottie and others loosely termed activists flowed into Downtown Memphis intent upon protesting against police brutality and other issues of social justice.
They met up in front of FedExForum, where various forms of expression were given to the sentiment that enough was enough regarding the unnerving string of fatal encounters involving law enforcement officers in several U.S. cities, including Memphis.
Later, without any forethought or planning, the demonstrators started moving. And then like a stream of water that had overflowed its bank and grooved a new course, they ended up on the I-40 Bridge across the Mississippi River, effectively shutting down the flow of traffic.
On Sunday, Gottie and others – including the president of the Memphis Police Association (MPA) – will gather downtown at historic Robert R. Church for the "For Our Kids March." It is one of several events planned as part of looking back and looking forward a year after the who-would-have-believed-it shutdown of the bridge.
On the annual anniversary date, members of the Memphis Association of Black Journalists will hold a public forum envisioned as a productive conversation – analyzing progress and offering solutions for areas where the city could stand to see improvement.
The "For Our Kids March" is slated to begin at 3 p.m., with a block party on tap immediately after.
Taking to Facebook, Gottie posted, "People think I'm crazy cuz I'm marching with the youth, they must be crazy for not marching with the youth! Our babies are dying, it's time to speak out!"
MPA President Mike Williams said he would be in attendance. Explaining his decision to go in a Facebook post, Williams said Gottie has "assured me he will not be going back to the bridge on this day, but instead to Memphis City Hall with the children to present them to the Mayor" to pose the question "'What is he going to do to make Memphis and their communities better for them?"
At the same time the march is to kick off, the Memphis Police Department will host a community meeting to discuss community police relations. The agenda calls for a discussion on use of force and what people should do when stopped by an officer while on the road.
The meeting will be at the Hickory Hill Community Center at 3910 Ridgeway Rd. MPD Director Michael Rallings, along with members of the Civilian Law Enforcement Review Board (CLERB), will be in attendance.
Rallings began his tenure as police director in July 2016 following the retirement of Toney Armstrong and after calls from many Memphians for him to take charge. Hours into the bridge siege and with traffic backed up and the situation tense and uncertain, then-Interim Police Director Rallings locked arms with protesters and walked with a group of them back to FedExForum.
A discussion ensued and an agreement was announced to meet the next day at Greater Imani Church – The Cathedral of Faith at Christian Center. Following that meeting and over the last year, a string of protests, other meetings and declarations via press conferences have unfolded with varying assessments of progress – or lack there of – and even differences on how to measure it.