Memphis Caribbean Jerk Festival returns July 15
TSD Newsroom | 7/6/2017, 1:10 p.m.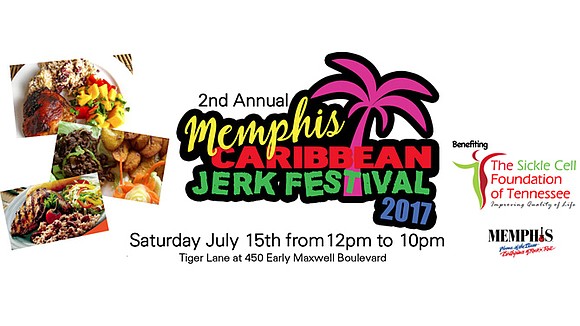 The second annual Memphis Caribbean Jerk Festival – benefiting the Sickle Cell Foundation of Tennessee – will take place from noon-10 p.m. on July 15 at Tiger Lane located at 450 Maxwell Lane near Liberty Bowl Memorial Stadium.
Tickets are $15 online at www.memphisjerkfest.com and $20 at the gate the day of the event. Children 12 and under enter free.
The event will feature Caribbean food, arts and crafts vendors, a kid's village, games and live reggae performances by Chinese Connection Dub Embassy, Roots of A Rebellion, The Exodus Reggae Band, Jasira, Ekpe, and One Love Theo.
Alan Kirkpatrick, who founded the event, said his love of jerk food prompted him to launch the festival.
"This is an opportunity to not only highlight great tasting jerk food, but also feature some of reggae's best musical artists and positively showcase the Caribbean culture to the Memphis community," said Kirkpatrick, president of Home Run Entertainment, LLC, the event's host.
Festival attendees will have the opportunity to enter the raffle to win a Big Green Egg grill – a domed, ceramic cooker – sponsored by Ken Rash's, a local provider of high-end outdoor patio furniture.
Proceeds benefit The Sickle Cell Foundation of Tennessee. Kirkpatrick said the festival is designed to help educate the public about the disease through the work of The Sickle Cell Foundation of Tennessee. It's also geared to honor two people who died from the disease and who inspired him.
"Dr. Trevor Thompson, the founder of The Sickle Cell Foundation of Tennessee, and I formed this partnership prior to his passing last year," Kirkpatrick said. "His work through this organization has made a significant impact on people living with sickle cell disease throughout the Mid-South and in the state of Tennessee.
"I was also influenced by my college friend Kim Redd, who was an amazing young woman who encouraged me to take more of a leadership role on campus."
According to the Centers for Disease Control and Prevention (CDC), sickle cell disease affects approximately 100,000 Americans, especially African Americans. For example, one out of every 365 African-American babies born has sickle cell disease and about one in 13 African-American babies is born with the sickle cell trait. To learn more about The Sickle Cell Foundation of Tennessee, go to www.sicklecelltn.org.
The second annual Memphis Caribbean Jerk Festival is also sponsored by Angie and Ike Photography, Dan The Carpet Man and Detail One. For sponsorship information, contact Kirkpatrick at 901-277.8067 or homerunentertainmentllc@gmail.com.
For more information and to purchase tickets, visit www.memphisjerkfest.com.