GritGrindGrizz: A FAREWELL TO #50 FOR THE CITY
Z-Bo's blue-collar approach won games — and hearts.
Lee Eric Smith, lesmith@tsdmemphis.com | 7/6/2017, 1:13 p.m.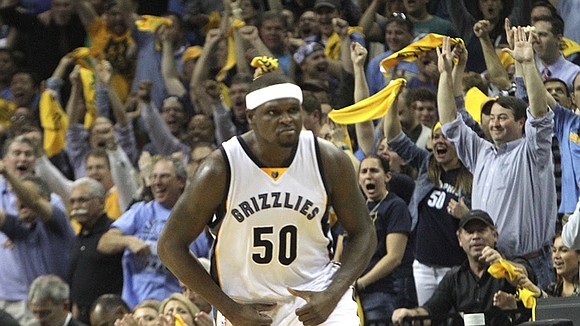 Ten years ago, Zach Randolph was nowhere close to becoming the face of a franchise, let alone the Memphis Grizzlies. He wasn't even on the team yet.
No, in 2007, the role of "face of the franchise" still belonged to the lanky Spaniard, Pau Gasol — an excellent player who had simultaneously led the franchise to new highs (three straight playoff appearances) and lows (three straight first-round playoff sweeps). And while the fan base was giddy to be in the playoffs, the team's relationship with the city still had not quite "clicked" with Gasol as the star player. He wasn't even American, let alone African American, and he certainly wasn't a Memphian. Say "mane" to him, and he'd probably start talking about lions.
It was right around that time that I wrote about Zach Randolph for the first time. I was commenting on a Grizzlies' message board (remember those?), and I mused about how Memphis needed a player with a little "dirt" on him, someone a little rough around the edges. I tossed out names like Allen Iverson, Rasheed Wallace, Ron Artest and of course, Z-Bo. "A guy like that would be worshipped in Memphis — not in spite of their reputations for being a knucklehead, but BECAUSE of it."
Fast forward a year or two. Gasol had been traded to the Lakers, and the franchise was turning to Rudy Gay and O.J. Mayo to ignite wins and fan adoration. By that point, Randolph had already been traded from Portland to New York to the L.A. Clippers. He was still Mr. 20-10 at each stop, but he also seemed destined to be a journeyman, the next Chris Gatling. And if you don't remember Chris Gatling, that's exactly my point.
But before the Grizzlies traded for Randolph, I made one last desperate plea via a post at 3 Shades of Blue, the fan blog I was writing for in the Summer of 2009. It's laughable now, but I argued that Carlos Boozer might be a better fit: "One is reported to be a knucklehead locker room cancer who won't pass the ball. The other was considered an MVP candidate a few years ago."
I wasn't the only one. When Zach Randolph came to Memphis, nobody thought he was a franchise-type player, except maybe him and his mama, Mae Randolph (rest in heaven). Even after he got here, he wasn't supposed to be the face of the franchise. He was supposed to be a role player, snatching boards and scoring on put-backs — which he consistently did by out-bumping other players instead of out-jumping them. And a legend was born.
Memphis is a lot of things. It's a mostly African American city. It is a basketball town that struggles to keep its young people on the right path. It's not a glamorous city, nor one of phenomenal wealth. The people are proud and tough minded, but also friendly and down-to-earth. It's a city that always seems to feel disrespected, overlooked, underappreciated.
And perhaps more than anything, Memphis is a city that respects and praises Memphians who rise above their limitations via willpower, hustle and hard work. And more than any other player before or since, that's why Randolph became the face of the franchise. He EARNED it.