CORE FOUR NO MORE
Sacramento Kings sign Randolph for 2 years, $24M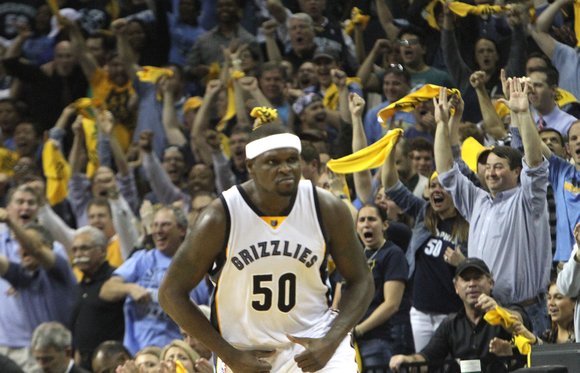 A few months ago, as we were counting down the days before San Antonio eliminated the Grizzlies from the playoffs, I was ruminating on whether this would be the final time we saw Zach Randolph and Tony Allen in Beale St. Blue. Fresh off of BET's New Edition miniseries, I couldn't help but hear that line from one of New Edition's earliest hits, "Is this the end?"
Mama told me one day it was gonna happen, but she never told me when
I thought it would happen when I was much older, wish it woulda happened then
And here it is: The next time Zach Randolph suits up in Memphis, he will be doing it in the visitor's locker room, and his jersey will say "Sacramento." From the AP:
Randolph left Memphis for a $24 million, two-year deal to reunite with former Grizzlies coach Dave Joerger in Sacramento, a person with knowledge of the agreement told The Associated Press. The person spoke to the AP on condition of anonymity because the deal cannot be signed until Thursday.
Sacramento went 30-52 last season, Joerger's first year, and has not made the playoffs since 2006.
The Kings hope the additions of Randolph and Hill will help change that. After a rocky start to his career in Portland and New York, Randolph found himself in Memphis. He spent eight years with the Grizzlies, emerging as one of the central figures of the team's "grit and grind" mantra.
He helped Memphis make the playoffs the past seven years, including a trip to the conference final in 2013 when Joerger was an assistant. Joerger took over as head coach the following year and had three years with Randolph, including a trip to the second round in 2015.
Randolph, who turns 36 later this month, averaged 14.1 points and 8.2 rebounds per game last season and is still considered one of the better post players in the game. He is expected to be a mentor for young big men like Willie Cauley-Stein, Skal Labissiere and Harry Giles, one of the team's three first-round picks last month.
I'm writing more extensively about it for this week's print edition, but here are a few thoughts I shared on Facebook Live:
For more coverage, check out tomorrow's print editon of the New Tri-State Defender.