'Policing while Black' is a problem that can't be ignored
David A. Love, theGrio | 7/4/2017, 10:41 a.m.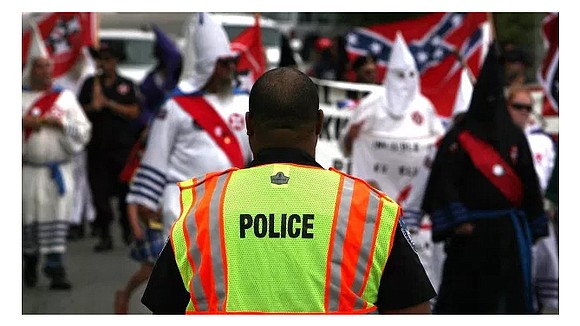 When a Black police officer is shot by a white officer who mistakes him for a regular Black criminal rather than a cop, we are told this is "friendly fire." Does that mean the bullet doesn't hurt so much because it is friendly?
The absurdity of it all is exactly why we need to deal with internal racism in law enforcement.
The recent troubling incident in St. Louis is a case in point. A Black off-duty officer coming to the aid of his fellow cops was shot by one of them, a white officer who viewed him as a threat because he is Black. Seven cops are now on administrative leave as a result of the incident, until the department can sort out exactly what happened.
Yet, there is a distinct sense that we may very well know enough about what took place. The uniformed officers encountered the off-duty cop, who is 38 with 11 years on the force, and in possession of his department-issued firearm, according to the St. Louis Post-Dispatch. They ordered him on the ground, then ordered him to get up and walk toward them when one of the officers recognized him.
One of the officers just arriving on the scene—36 years old with eight years on the force, and "fearing for his safety"— shot the off-duty Black cop in the arm. Because Blue Lives Matter. The department tried to say the officer was wounded in the crossfire between police and armed suspects in connection with a car theft. But apparently, that isn't how it went down. This, in a city that has been rocked by tensions in the community and people erupting in protest in the streets over police shootings of Black men in the last few years.
Certainly, this is by no means the first Black police officer to be bombarded by "friendly" white police bullets, stopped and searched, arrested, or otherwise criminalized for policing while Black.
In 1994 in a New York subway station, Officer Peter Del Debbio opened fire on Black undercover transit officer Desmond Robinson, hitting him four times, twice in the back, and wounding a woman civilian as well.
In 2005, Howard Morgan, a Black former Chicago cop was shot 28 times—21 in the back—during a traffic stop for driving the wrong way on a one-way street. A jury, believing Morgan had discharged his weapon, found him guilty of attempted murder and sent him to prison for 40 years before his sentence was commuted.
NYPD Officer Andrew Dunton, a white cop who killed his Black colleague Omar Edwards, 25, in 2009 after ordering him to drop his gun, not only faced no punishment, but was promoted to sergeant three years later. Because apparently only "White" Blue Lives Matter.
Then there is the story of the four Black parole officers who were held at gunpoint and detained by local police in Ramapo, NY while on official business. And let's not forget the white plainclothes officers who were busted for ordering Chief Douglas Zeigler–a three-star chief, head of the Community Affairs Bureau and the highest ranking Black cop in the NYPD— out of his department-issued SUV with his ID around his neck. Because sometimes you mess with the wrong one.