Grizzlies sign McLemore to two-year deal
Analysis: Goodbye Grindfather?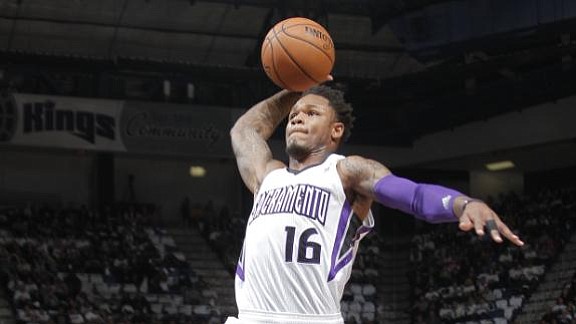 When it comes to the Grizzlies, so much attention has been paid to whether or not the team would retain all four of their free agents that there's been next to no speculation that the team would bring in someone new.
But that's exactly what they just did, in signing former Sacramento King Ben McLemore to a two year, $11M deal, according to multiple media outlets. From the Associated Press:
A person with knowledge of the situation tells The Associated Press that the Memphis Grizzlies have agreed to terms with free-agent guard Ben McLemore on a two-year deal worth about $11 million.

The two sides came to agreement on Sunday. The person spoke on condition of anonymity because a contract cannot be signed until Thursday.

McLemore is a former No. 7 overall pick who never really got going in four years with the Sacramento Kings. The former Kansas player averaged 8.1 points last season for the Kings, but did shoot 38 percent from 3-point range.

The Grizzlies made a low-risk decision to see how much Sacramento's toxic atmosphere over the previous several seasons may have played into McLemore's struggles.

Memphis ranked 17th in the league in 3-point percentage last season.
GritGrindGrizz Analysis:
I like this pickup. McLemore is exactly the type of young veteran that can help create a new core. And my hunch is that McLemore is itching to show that his Sacramento stint was not who he really is.
But this almost certainly spells the end of the Tony Allen era in Memphis. First of all, the wing spots seem to be getting more and more crowded by the day. If Allen returns to Memphis, he will be competing for minutes against McLemore, Wayne Selden Jr., Troy Daniels, Chandler Parsons, James Ennis III, Andrew Harrison, Wade Baldwin IV; rookie Dillon Brooks, Serbian star Rade Zagorac and Vince Carter (if he returns).
And I know what you're thinking: "Lee, at least three of those guys will probably spend all season in Southaven, with the Memphis Hustle." Fine, I 'll give you that, and even throw in that another one gets traded.
My thing is this: If McLemore proves to be a younger better two-way player than Allen (All-NBA defender but unreliable offense and shooting), I have to imagine McLemore could slide into the starting lineup, ahead of Allen. And he will say all the right things, but that won't sit well with him.
Furthermore, Fizdale and Co. will want to get good minutes to develop Selden and to see if Daniels can be more than a streaky shooter. Hard to see an aging, offensively limited and sometimes injury-prone Allen cracking the rotation on the regular, enough to make him happy.
Assuming the team makes hiam a respectable offer, will he be willing to accept a smaller check and role on the team? Will he have other suitors?
And much of the same applies to Vince Carter, who is more likely to accept the "wise veteran bench mentor" role, but who has also said he still wants to play.
Meanwhile, what's the market for Allen? I could see Doc Rivers inviting him to the Clippers, because Rivers has a soft spot for his former players (Allen was on the Boston Celtics team that won a championship in 2008). I could also see Tom Thibodeau recruiting Allen for Minnesota (Thibs was an assistant coach on that Celtic team and values tough defense).
We shall see how it plays out. But here's hoping we haven't seen the last of Allen on Beale.