Obama's letter to Trump
Michael Harriot, The Root | 1/24/2017, 8:47 a.m.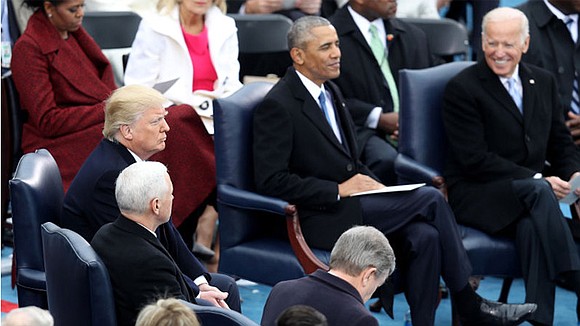 It is a tradition for the outgoing president to leave a letter to the incoming commander in chief. George W. Bush left a touching note for Barack Obama after Obama's election, as did Bill Clinton for Bush after Bush became the 43rd president of the United States.
Because the Thousand Island-dressing-colored grand dragon has routinely obstructed the American people from examining his actual documents (income taxes, health records, Melania's immigration papers, the secret plan to destroy the Islamic State group, the Affordable Care Act replacement plan, etc.), we probably won't get to see what Obama wrote to Donald Trump. So here is an exclusive (although imagined) look at the message Barack Obama left for the newly elected president:
Dear Donald,
By now you have settled into the Oval Office, put up the velvet paintings you bought with charity money, installed your direct line to Vladimir Putin, and instructed the White House kitchen staff to dispose of all the hot sauce and seasoning salt. By this time, I'm guessing Macklemore has released the remix to Jeezy's "My President Is Black," so you're probably dancing through the White House singing:
My president's orange
My Klan suit's white
My Nazi flag's red
and my crew's alt-right ...
Still, I'm sure you're nervous. I know how overwhelming it can be when you realize that every decision you make will impact the lives of 300 million people. In the past few days you have probably learned a lot about the existential threats facing America, how they count inauguration crowds and who the hell Chrisette Michele is. You're probably beginning to feel the weight of the office.
I could tell you to lean on your experience as a governor, your time in the Senate or any of your previous jobs, but I know you haven't held a leadership role since your high school removed you from your post as captain a month after it appointed you, so I thought you might need some advice from one of the only five men alive who've ever held the job.
When we first met, you seemed very reluctant to have an open and honest conversation with me. Perhaps that was my fault. Maybe it was a little passive-aggressive of me to leave my birth certificate on the desk during your first White House visit, but I heard you were very interested in seeing it. To be fair, I was a little exhausted from convincing Joe Biden that I couldn't answer, "You can catch deez hands," when you asked how you could help the country move forward (he really doesn't like you).
First, you should know that you're probably going to face some resistance that your stint in pro-wrestling, your reality-show experience and even your pussy-grabbing background haven't prepared you for. As soon as I took office, Mitch McConnell said his No. 1 job was to make me "a one-term president."
He failed.
In fact, I was able to rescue the country from a historic recession, add jobs to the economy for 75 straight months, kill the most-wanted man in the world, end two wars, reform the criminal-justice system, free thousands of prisoners of the stupid war on drugs and become the first president who knew how to do the Electric Slide.