Key roaster at The Bar-Kays salute would love to follow in their footsteps
Music legends get plenty of laughs at "Freedom and Funk Weekend" event.
Tony Jones | 1/20/2017, 8:45 a.m.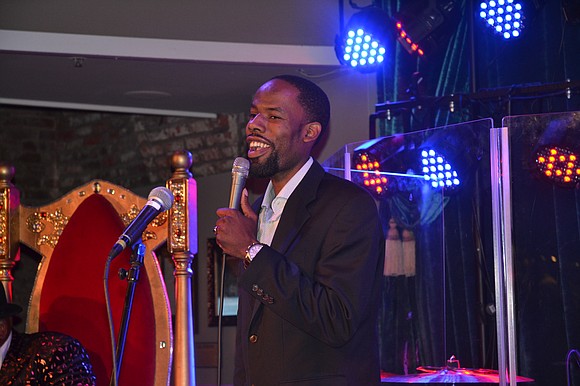 Comedian Ambrose Jones rocked the Hard Rock Café on Beale Monday night at the Freedom and Funk Weekend's roast honoring The Bar-Kays.
ABC 24's Jamie McGriff served as M.C. for the evening, bringing out a string of comedic talent featuring Comedienne Keisha, Doug Gillon, Oscar Pruitt and Jones. Memphis-linked performers Bobby Rush, Confunkshun's Felton Pilate, Al Kapone, Royal Studio's Grammy-winning producer Boo Mitchell saluted their compatriots.
Janice Crawford, a lifelong fan of The Bar-Kays, didn't know much about Jones before he hit the stage. "He was very good—terrific," she said after his first set.
Fresh off a win as a semi-finalist on NBC's "Last Comic Standing" last year, the appearance continues a hot run for Jones, which he explained in a pre-event phone interview.

"This will be my first one (celebrity roast) and it really couldn't be a better opportunity," said Jones. "I'm a personal-style comedian, so it fits right into my style. A lot of the times the best stuff comes from right of the top of my head, and when it hits you build on it and keep it, so it's a great format for me."
Like the audience at the roast, Jones said The Bar-Kays' music wraps around great memories. That includes hearing them on the radio and his mother playing them in the house, a scenario he used during the interview to create a joke saluting their longevity.
"You know The Bar-Kays are old school because the whole backstage smells like Ben Gay and Icy Hot," he quipped.
Jones saaid the gig was a great honor. The opportunity came about via a night of networking that turned out to have a big surprise for him and the national music market.
"I had met their manager at one of their album release parties, which led to me opening up for them in Batesville Civic Center (Mississippi). They had just dropped 'Grown Folks.'"
And when he heard it?
"Aw man, they're still jamming," he thought. "Ever since then we've kept in contact, and one day I ran into him and he told me about this roast coming up for the Freedom and Funk Weekend."
All the pros say comedy is about timing, so just as "Grown Folks" marked a major surprise market breakthrough for The Bar-Kays, the roast might be right on time for Jones. With his selection on "Last Comic Standing" highlighting his Facebook page and Youtube presence, there's a big chance it could add to his momentum due to The Bar-Kays' name recognition and the Internet's appetite for all manner of celebrity news.
Other big spots are on the table, but "I can't reveal anything," he said, citing legal stipulations.
Born in Chicago, Jones' family moved here when he was a child. A graduate of Hamilton High School, he is in his tenth year as a professional comedian. He started doing comedy after being terminated as a UPS package delivery driver. Career-wise, he's never had to glance into another rear view mirror.
"See, the biggest imprint for me was to stop working and doing comedy full time, and God gave me that off the top. I'm just happy to be out here making people laugh."