Grizzlies MLK weekend hits all the right notes
Still, something was missing, writes GritGrindGrizz columnist Lee Eric Smith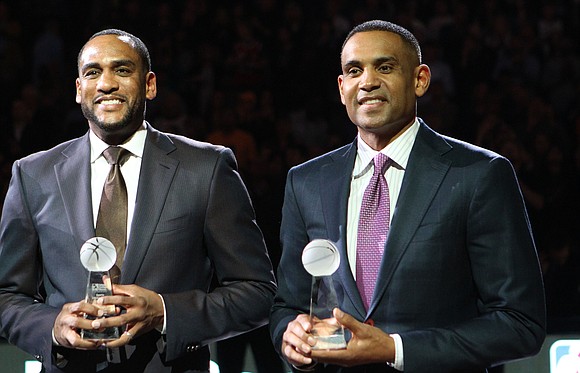 As usual, the Memphis Grizzlies put on a first-class commemoration of Dr. Martin Luther King's birthday. Though some were bothered by the fact that the team's matchup against the Chicago Bulls was moved off of the actual King Holiday on Jan. 16, I took the glass-mostly-full outlook: The team played on King's actual birthday, Jan. 15.
There were old touches and new. Among the new touches were the MLK50 uniforms which made their on-court debut in the game. I got into an intriguing conversation with my media colleague, Kevin Cerrito, a white male who wondered if the unis — particularly the wreath icon on the front — were the best way to remember Dr. King's time in Memphis. "Does it draw more attention to all of Dr. King's great work? Or is it a painful reminder that this is where he was killed?" he asked.
Which brings me to the "old touches." Each year, the team and their partners at the National Civil Rights Museum present a Sports Legacy Award, usually to a former athlete who may or may not have a personal history with the Civil Rights Movement, or might be an advocate on social issues.
This year, they honored former NBA greats Grant Hill and Steve Smith, along with WNBA star Lisa Leslie. The honorees also participated in a forum at the Civil Rights Museum on Saturday, and a symposium before Sunday's game. Also on the panel was former honoree Jason Collins, who made history a few years ago when he came out as gay while still in the NBA. He sat in for Leslie, who had a family emergency and didn't attend.
As I mentioned before, it's a first class celebration. I just wish it wasn't so safe.
Most celebrations about Dr. King are safe. That's because much of the popular narrative around his life has been boiled down to "I have a dream" and "I've been to the mountaintop!" The truth of his life was so much more than that — kind of like how the story of Thanksgiving is more than pilgrims and Indians and turkey.
How did the team play it safe? They stuck to the script. Which is to say, they selected thoughtful and polished people who could be both politically astute and politically correct. At the symposium, Grizz TV announcer Pete Pranica lobbed softball questions like, "When did you first learn about Dr. King." The panelists — all born after Dr. King's assassination, like me — gave thoughtful, appropriate answers that showed a working knowledge of the broad strokes of his life.
But you don't have to dig much deeper into King's teachings to realize that he spoke passionately against poverty and its link to social justice. He was preparing a poor people's campaign aimed at uniting poor blacks and whites to push for better wages. And at the core of everything was his otherworldly spiritual wisdom, his insight and his ability to connect spiritual principle with social action.
Don't get me wrong: I'm grateful that the team chooses to do anything at all to honor Dr. King. That they do it so well is all the better. Saturday's discussion at the Civil Rights Museum touched on police shootings, athletes protesting the National Anthem, and more. Earlier in the week, the team hosted a youth summit and having Vince Carter talk to young black children is never a bad idea.
Maybe I'm just pining for a deeper, more transformative conversation. Just below the surface of "The Dreamer," there's wisdom and guidance that could serve all of America right now, not just African Americans. There are his teachings of having a tough mind and a tender heart, which our nation will need over the next four years. There are his teachings on forgiveness and the healing power of love.
Then again, I think back to my conversation with Kevin Cerrito. He and I have covered many games over the past several seasons. We never had more than passing polite conversation before the game.
And yet, there we were, a white guy and a black guy, at a basketball game talking about Dr. King's life and what it stands for. He told me he'd attended the premier of the documentary "The Invaders;" I told him about Dr. King's book "Strength to Love."
It was the kind of conversation the city and country needs more of -- a conversation sparked by a wreath on a basketball jersey.