Bishop Eddie Long dies from an 'aggressive cancer' at 63
New Birth issued a statement to the Atlanta Journal Constitution on Sunday, confirming his death.
Angela Bronner Helm, NewsOne | 1/16/2017, 9:51 a.m.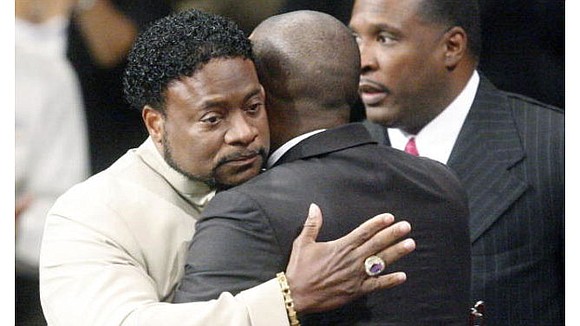 Bishop Eddie Long, the embattled pastor of Georgia megachurch, New Birth Missionary Baptist, has died from an "aggressive form of cancer" according to the church. He was 63 years old.
New Birth issued a statement to the Atlanta Journal Constitution on Sunday, confirming his death.
Long made his last public appearance two weeks ago; the senior pastor had lost a significant amount of weight, prompting more than a few comments on social media about his thin, gaunt appearance, prognoses about the state of his health, and even rumors of hospice care.
As Long praise danced at the altar, he looked almost unrecognizable—his thick hair gone, replaced with a shiny bald head; his portly appearance now replaced by a shadow of his former self.
Long had been fielding concerns about this health for some time, and in September Long released a statement saying in part that he is recovering from an unnamed health issue.
"I am recovering from a health challenge that I trust God to deliver me from. It is unrelated to the eating for life diet consisting of mostly raw vegetables that I am continuing, as part of a holistic approach to good health."
Long, the long-celebrated pastor of the 25,000-member congregation, faced serious controversy throughout his tenure—from financial impropriety to sexual misconduct with young men from his congregation (he was staunchly against homosexuality and advocated and sponsored "Sexual Reorientation" classes to supposedly convert homosexuals to heterosexuals.)
About six years ago, four young men said that he coerced them into sexual relationships. Long categorically denied the allegations in a court filing, saying he was only a mentor to the men who filed civil lawsuits against him.
The men, who were 17 and 18 at the time, say Long abused his spiritual authority to lure them into trysts with cars, jewelry and cash. He often traveled with the young men, sometimes as far as New Zealand, and admitted in four separate documents that he often encouraged his New Birth Missionary Church members to call him "daddy"—as a sign of respect.
There were no criminal charges filed in the cases because Georgia's age of consent is 16. The Atlanta Journal-Constitution reported on May 27, 2011, that the lawsuits were settled out of court; terms were undisclosed. His second wife, Vanessa Griffin, filed for divorce in December of that year.
In September 2012, Vanessa Long stated that she chose to return to her marriage and to the New Birth family.
Bishop Long was born May 12, 1953, in Huntersville, N.C., to the Rev. Floyd M. Long, Jr. and Hattie Long. Eddie Long attended North Carolina Central University in Durham, N.C., where he received a bachelor's degree in 1977.
He became pastor of New Birth Missionary Baptist ten years later and reportedly grew the church from 300 to 25,000 members. In 2006, the church was chosen by the family of Dr. Martin Luther King, Jr. to host and officiate the funeral for matriarch Coretta Scott King. The service was attended by four U.S. Presidents—Jimmy Carter, George H.W. Bush, George W. Bush and Bill Clinton.