What Dr. Herenton said: Declaration, backlash and next step?
Mayor's prayer breakfast has a lot of talk; will action follow?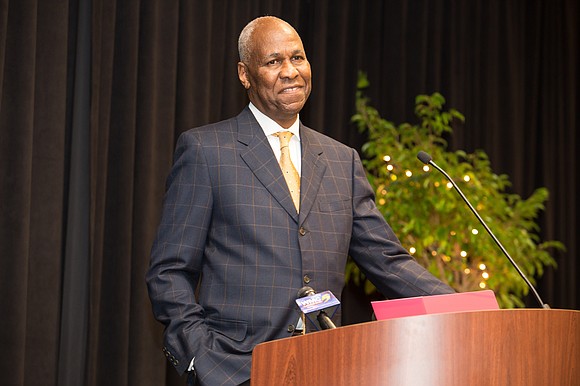 Dr. Willie W. Herenton – a self-declared social entrepreneur – was just a few minutes into his 30-minute address at Mayor Jim Strickland's New Year's Day Prayer Breakfast when he asked Landon Anthony Johnson to join him at the podium.
Johnson, 16, made his way to the front and listened respectfully as the former mayor, one-time school superintendent and now a charter schools operator detailed the achievements of the Collierville High School honor student. Johnson's GPA is stellar (3.89) and his standardized test scores rank him in the top 99 percentile of all students in the United States.
"He was not at the mall," said Herenton, referring to post-Christmas disturbances involving fighting youths at Oak Court Mall and Wolfchase Galleria. "If he goes to the mall, his mother and father will be with him…he will not be on social media talking about gang-banging. …He gives us hope."
Johnson took his seat, accepting handshakes along the way.
Herenton, who now heads what he calls the New Path Movement, proceeded to drop some heavy reflections about what he labeled a "black problem," acknowledging at the outset that his remarks likely would draw frowns and smiles. And while many others in various quarters of Greater Memphis did not have as a high a profile for sharing their thoughts and reflections about violent behavior being exhibited by some African-American youth, they certainly were talking, or ready to respond when asked.
Amid the volume of recent conversation – much of it linked to fears that teens' fascination with social media is helping fuel organized violence in public areas, Keedran Franklin, a spokesperson for the Coalition of Concerned Citizens weighed in.
"The epidemic is directly connected to the lack of positive and substantial amount of resources poured into our youth," Franklin said.
"When law enforcement and other authority figures come into contact with our misunderstood youth, the lack of cultural sensitivity training adds to the fire of problems that is slowly killing our city. The Coalition has offered to help Mayor Strickland and his administration but instead of taking our olive branch they wanted to dismantle the organization."
Franklin said much of the news media acted irresponsibly by reporting unsubstantiated social media posts about youth planning to meet up in public and violently throw down.
"Fear mongering is what they're doing," he said. "Where are the reports about issues we have brought up? They're not doing their job on the real issues."
London Lamar, president of the Tennessee Young Democrats, dismissed the notion that the mall-related incidents reflected lost children seeking a thrilling moment to watch themselves on the Internet.
"We all ran toward a fight when we were children in school. That's what teenagers do. We all did when we were kids," Lamar said, pointing to something she considers more fundamental.
"There aren't any fun, free things for these kids. The community centers are not funded. Our organization has to get them involved to get the stakeholders, the elected officials to get laws passed to get more kids to the resources to channel this negative energy," she said. "It's no different than from days before. It's just being recorded."