Mid-South native explores hidden history of Washington D.C.
Jesse J. Holland's latest book "The Invisibles" is about slaves in The White House.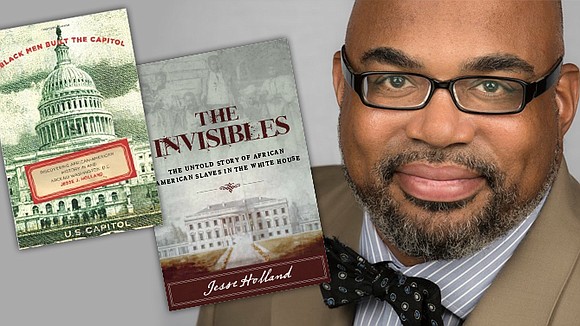 In 2009, while veteran AP correspondent Jesse J. Holland was standing in front of the U.S. Capitol building witnessing the inauguration of America's first African American president, he couldn't help but think about what had happened nearly 200 years earlier on that same ground.
Holland, a native of nearby Holly Springs, Miss., had published his first book "Black Men Built The Capitol" in 2007. In his research, he learned that just a few hundred yards away from where Barack Obama was taking the oath of office, enslaved Americans had slept in a tent city while working on the Capitol in the early 1800s.
"It's one of the things that should be obvious once you think about it," said Holland, who now covers race and ethnicity for AP in Washington. "Washington D.C. is a Southern city. Southern cities used slave labor. So, of course, slaves built the Capitol, The White House and other government buildings. But it's one of those things I never thought of. It just never comes to mind.
"It just hit me like a brick when I was out there at (Obama's) inauguration," Holland continued. "We were standing on land that was used as a tent city to house slaves who were working on a building that would become where America would inaugurate its first African American president. Sometimes, when these things pop into your mind…. It gives you a sense of history. It gives you a sense of how far we, as a people, have come."
From Holly Springs to the halls of Congress, Holland's career as a reporter has flourished. He knew as a teen he wanted to write, but growing up in small town Mississippi, he didn't know what he would write about. He decided to major in journalism at The University of Mississippi, where he would become the second African American to be selected Editor of the student newspaper The Daily Mississippian (TSD Associate Editor Lee Eric Smith was the first).
He joined the Associated Press in the mid-1990s and by 2000, he was covering Washington politics for AP. It was while he was getting acclimated to D.C. that he began to hear verbal accounts of untold history of the city's darker residents.
"I decided to immerse myself in the history of Washington, D.C. But as I was walking around, one thing kept coming to mind over and over: Where was the black history?" Holland said. "I knew there had to be black history on the National Mall, so I started asking around. People knew the stories but no one had ever written them down."
That would eventually lead to "Black Men Built The Capitol" and his latest book, "The Invisibles: The Untold Story of African American Slaves in The White House." While researching his books, Holland found countless nuggets of history hiding in plain sight.
For instance, if you visit the Statuary Hall in the U.S. Capitol, you'll see statues of prominent Americans, all white. But you'll also see tall marble columns — columns that had been quarried by slaves, shipped up the Potomac River and installed — the handiwork of slaves on display before any statues had been erected.