'The list' is headed to court
Montee Lopez, Special to The New Tri-State Defender | 2/23/2017, 10:15 a.m.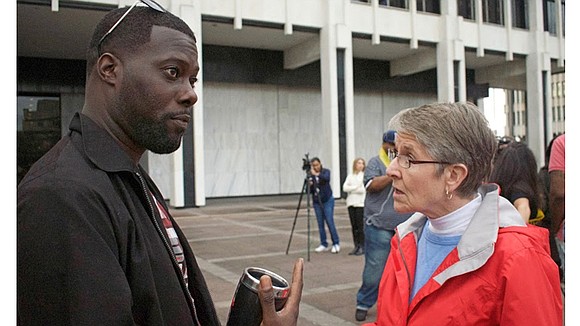 Two words – "the list" – have come to symbolize the friction between groups of individuals loosely described as activists and the administration of Mayor Jim Strickland. On Wednesday, the list became the subject of a lawsuit.
Release last Friday under force generated by an open records request, the list bars 81 people from entering City Hall without police escort. Strickland has said the list was created by the Memphis Police Department and that the keeping of such a list predates his administration. Most of those named are well-known and outspoken community activists.
Wednesday afternoon, the American Civil Liberties Union (ACLU) filed a lawsuit against the City of Memphis. The claim is that the list interferes with First Amendment rights and runs counter to a 1978 order that bars the city from collecting information on people unless it ties into a criminal investigation.
"The list is unjust, evil and an attempt to police the behavior of those trying to exercise their constitutional rights," said the Rev. Earle J. Fisher, co-spokesperson for the Memphis Grassroots Organizations Coalition and pastor of Abyssinian Baptist Church in Whitehaven.
Fisher, who is on the list, said, "They seem to be committed to our punishment and surveillance."
Strickland has said didn't learn about the list until two weeks ago. He did acknowledge that in December he signed an authorization of agency (no trespassing order) after a handful of people showed up outside his house and staged a "die-in.
I did this for the protection of my family," Strickland said.
Fisher said the fundamental problem is that when Strickland found out about the list "he did not take the initiative to express how unjust the list is. This says a lot about his governing philosophy….
"If he didn't know as mayor, he should've," Fisher said. "That brings more concerns about the competency of your administration."
Strickland has called on Memphis Police Director Mike Rallings to review the process of how the list is made.
Director Rallings said some names may have ben put on the list incorrectly.
"There could be several reasons why one may require escort while in City Hall, Rallings said. "For example, disgruntled terminated employees, individuals who may pose a security concern, individuals who may have endorsed potential statements of unlawful behavior and those individuals who are named on an authorization of agency."
Tuesday afternoon, many of those on the list protested outside City Hall as the bi-weekly City Council meeting unfolded. Asked about the list, several Council members said they were unaware of such list, with some adding that they want it done away it.
Fisher said now is not the time to point fingers.
"We should not make this about who's respectable enough to not be on the list," Fisher said.
It's not clear when Rallings will report back to Strickland regarding the review of the list. And although it might appear otherwise, Strickland said he's open to meeting and talking to anyone about bringing positive change to the city.
"We're not hiding from them," Fisher said. "They know where we are."