Frayser residents give 'State of City' address mixed reviews
Mayor Strickland: Tangible action bringing results
Brittney Gathen, Special to The New Tri-State Defender | 2/17/2017, 10:19 a.m.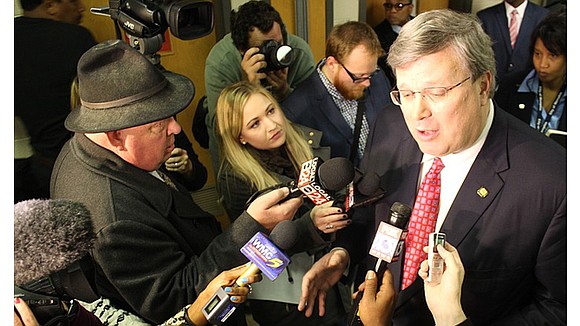 When Mayor Jim Strickland delivered his State of the City address in Frayser last week, he highlighted achievements made and the challenges faced by the city and his administration. He also endeavored to make one other thing clear – Memphis is going strong.
"Thirteen months and nine days ago, I was sworn in and I told you that we would bring new eyes to solve old problems," Strickland told the crowd gathered at Impact Baptist Church during a Frayser Exchange Club meeting. "We are continuing to bring these new eyes to our city's old problems. We're taking tangible action for the city of Memphis, and we're getting results.
"For everyone in Memphis who's fighting for a better future for their neighborhood, including you in Frayser, I'm proud to say to you that the state of our city is strong, and only getting stronger."
As evidence, Strickland noted strides such as minority and women-owned businesses getting a larger, fairer share of city contract spending, and Memphis's lower unemployment rate. Specifically pertaining to Frayser, Strickland said that 39.5 lane miles of streets in District 7 will be paved, which will include repaved parts of Overton Crossing and Hawkins Mill.
Strickland said strategies are in place to address crime, such as the effort to increase the number of police officers and the formation of a violent crimes bureau, which will investigate, identify, arrest and convict the most violent and repeat offenders to get them off the streets.
His administration will be doubling efforts to address gang intervention through the 901 Bloc Squad, Strickland said, adding that there also would be a focused effort to increase the amount of summer job opportunities for youth.
Issuing a call for the community to be more active, he emphasized the need to mentor youth, read with children and adopt blocks to clean up.
"In order for us to truly succeed, we need your help," Strickland said. "I want you who already probably volunteer a lot to do more."
His State of the City address drew mixed reaction from Frayser residents.
Long-time Frayser resident Christine Grandberry said Frayser was a fitting setting for the mayor's address.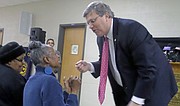 "I'm so glad that he did it in Frayser because we need so much out here," Grandberry said. "I appreciate him coming here to our neighborhood. …Frayser's one of the largest neighborhoods in the city. With 50,000 people out here, we need that recognition."
Grandberry liked that the mayor addressed paving streets and combating crime.
E. Shelly Rice, president of the Frayser Exchange Club, said that the mayor's presence was an honor for the club and the community. He liked that Strickland aims to create more job opportunities for the youth.
Minister Joe "Uncle Joe" Hunter, founder of G.A.N.G. (Gospel At New Generation) Inc., said he appreciated that Strickland had the address in Frayser, but he's not confident that the mayor's method method for addressing gang violence will be effective.
"Coming to the community where there is more gang violence, death and destruction happening than anywhere else and saying you're going to use the same system – the 901 Bloc Squad – to try do something, I don't agree with that," Hunter said. "They haven't been successful. The work I do is real gang intervention."
In 2013, a youth was shot outside of a 901 Bloc Squad meeting after a Raleigh gang member was brought to Frayser, Hunter said.
"To be effective (Strickland's administration) needs to work with people who have been on the ground doing gang intervention for 15 years, and someone who is well-known and connected to the gang leaders and someone who has nurtured gang members out of that lifestyle," Hunter said.
Stephanie Love, SCS Board of Education member for District 3, said she "would've liked to hear if there's money or resources that he's planning to give to the Frayser community to combat some of the issues that we have."
Love wants programs such as the ex-offender re-entry program, Lifeline to Success, to get more support. And she wants the streets to be safer for youth to cross.
"Things take time," Love said. "I'm just going to trust him to do his job. And if he doesn't ,we're going to hold him accountable."