TSD Legends and Leaders Gala reset for March 25
Honorees announced in Feb. 16 edition, on newsstands NOW!
TSD Newsroom | 2/16/2017, 11:56 a.m.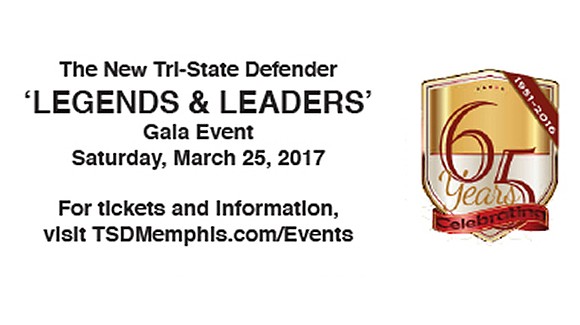 "November 3, 2016 marked 65 years of the Tri-State Defender's continuous publication in Memphis and the Mid-South, making us one of the longest running publications and media entities in the area and one of the longest operating African-American-owned businesses," said TSD CEO and Publisher, Bernal E Smith II.
"In the spirit of recognition and celebration, we have planned and endeavored to observe this milestone in grand fashion at our "Legends and Leaders Gala."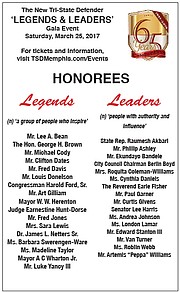 Originally planned for February 18, Smith indicated an emerging partnership with St. Jude and an opportunity to enhance the event led to a postponement.
"As we've communicated to our honorees and special guests, in order to make this occasion even bigger and better for them and the community at large, TSD and St. Jude have mutually decided to postpone the event to March 25. The time and location remain the same (6:30 p.m. at the St. Jude Domino's Event Center).

"We are working on an ongoing collaboration (with St. Jude) and want to ensure elements of that are ready to be shared during the gala," Smith said. "We also wanted to provide some enhancements to the event to make the experience that much more fabulous for all of our guests."
The Legends and Leaders Gala provides the opportunity to recognize Memphis's past, present and future through the individuals who have contributed and continue to contribute to the City's well being. On March 25, TSD will salute pioneers and visionaries who opened doors for so many, while also recognizing a group of dynamic young leaders who are setting the pace for today and blazing new trails for tomorrow.
"Historically we have not done a good job of connecting generations of leaders in our community and establishing a continuum of leadership that allows us to build upon the foundation established by previous trailblazers," Smith said.
"Too many times the next generation ends up fighting the same fights and seemingly starting over rather than taking advantage of the path already laid by those that have come before. Part of the vision of Legends and Leaders is to not only recognize contributions across generations but to ensure connectivity and establish relationships between the past, present and future leaders of Memphis."
The evening will feature music, dinner and tributes to the honored visionaries. The keynote speaker is Dr. Benjamin L. Chavis, president and CEO of the National Newspaper Publishers Association. Dr. Chavis is also a past National Executive Director of the NAACP, the National Director of the Million Man March and recognized by many as "the Preacher" from the movie "Belly."
"We are super excited to have a freedom fighter and powerful voice of truth like Dr. Chavis coming to Memphis to deliver insight on the continued role and responsibility of the Black Press as we celebrate 65 years of informing and empowering our readers. I am confident his message will be both relevant and reverent in the spirit of the event," Smith said.
Legends and Leaders will showcase the music of Memphis artist Bird Williams and his accompanying band, as well as special video presentations on TSD and St. Jude.
"I am excited that we will be announcing the details of our partnership with St. Jude as well as a new initiative of the I-Read Foundation for Literacy and Youth Development, the non-profit that I started last year to promote literacy and positive development among black youth," Smith said.