Live from the Grammys! ... Mr. Bobby Rush
With main man Vasti Jackson and producer Scott Billington.
Tony Jones, Special to TSDMemphis.com | 2/16/2017, 12:12 p.m.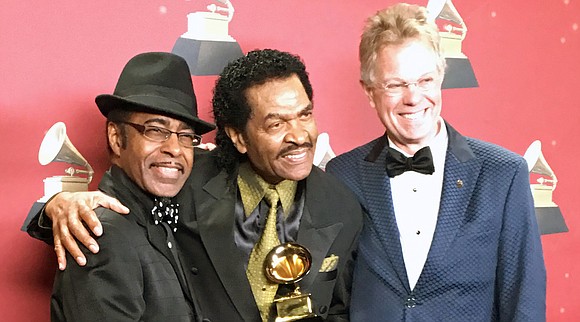 Let's all give a big, loud Memphis round of applause for the 2017 Grammy Awards.
After 60 years of recording a slew of sassy hit records that have crossed genres – and still cutting up at more than 200 live appearances each year, 83-year-old bluesman Bobby Rush achieved a well-deserved milestone when his latest recording "Porcupine Meat" won Best Traditional Blues Album.
Bluesman Vasti (like "bowtie") Jackson and the album's producer, Scott Billington, shared the coveted prize.
Jackson was also nominated in the same category for his genre-breaking acoustic solo CD "The Soul of Jimmie Rodgers." On Thursday (Feb. 16), he will receive the State of Mississippi Governor's Award as an Arts Ambassador.
What is really Memphis cool about it all is that Jackson has been Rush's secret weapon now for a zillion years, as both explained exclusively to The New Tri State Defender the morning after their Grammy win.
"I'm so blessed to have been nominated four times in a row," Rush said, "but when you win after being in the business so many years, after 300 records, you don't know what to say except thank you God for letting be around to see this day. It's the greatest thing in the world."
Critics across the board have said that "Porcupine Meat" – released last fall on the Rounder records label- captured Rush at his grittiest and wittiest.

"At first I was afraid people wouldn't understand the title, like my first gold record "Chicken Heads, I Ain't Stuttin' Ya" – all these titles just pop in my head. I got the next one ready, but I'm not going to give it away."
Co-winners Jackson and Billington made his first Grammy even more special, Rush said.
"Vasti and I have done about 80 records through the years, and most of my biggest hits –"Sue, Chicken Heads, I Ain't Stuttin' Ya…" He respects the ideas I bring to him and I respect what he brings to the table."
Billington was the catalyst for the "Porcupine Meat" project's success, Rush said.
"He's been recording blues for 40 years, so when he came to me I thought he wanted to do something that he could relate to, but he wanted the real nitty gritty me. And the label gave me something I've been wanting all of my life – they put promotion behind me."
Jackson noted that "Porcupine Meat" was recorded in New Orleans but grounded in Mississippi.
"Add a little New Orleans flavor, but unlike a New Orleans record, which would have a second line beat or other accents that are more intrinsic to New Orleans, we wanted to keep the feel of Mississippi," Jackson said.
"Bo Diddley is from McComb, the father of the blues Robert Johnson from Hazelhurst, about 35 miles north of McComb, Big Boy Cruddup…so when I say a Mississippi feel, I mean the whole richness of the state."
That same level of attentiveness led to Jackson's nomination for his CD "The Soul of Jimmie Rodgers."
"Some people thought I was crazy, others thought it was genius, but it's a real blues record," Jackson said. "A friend of mine, Brett Gulley, invited me to do a play called 'Jimmie Rodgers, America's Blues Yodeler.' What made Jimmie Rodgers unique was that he was influenced by African Americans. He performed in black face in minstrels, and became famous for yodeling the blues.