GRITGRINDGRIZZ: Where do the Grizzlies go from here?
With 24 games before the NBA Playoffs, team prepares for stretch run.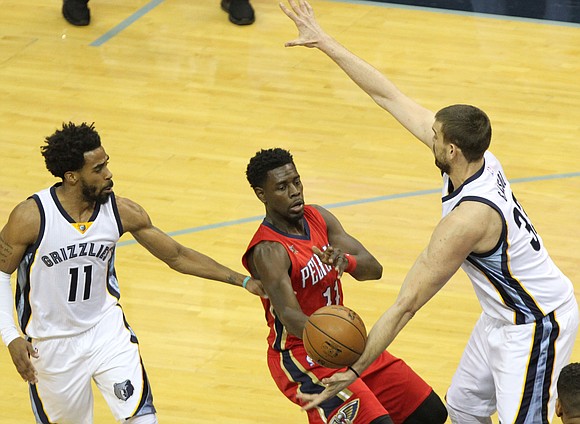 Hope you got a good look at the Grizzlies in their 91-95 loss to the New Orleans Hornets Wednesday night. It's the last time you'll see them for nearly two weeks.
Yep, that means it's time for the All-Star Break. And while the team is sending only one player to New Orleans this weekend instead of two (Congrats, Marc Gasol; sorry, Mike Conley), the playoff race clicks into another gear when the team returns to action on Feb. 24 against the Indiana Pacers.
Historically, the Grizzlies elevate their game in the back half of the season, playing at least .600 ball — winning about two out of every three games.
But with 24 games to go, that will mean that Memphis would need to go at least 16-8, which would mean another 50-win season.
Would that be enough to get home court in the first round? The top three spots seem pretty secure with Golden State, San Antonio and Houston, so Memphis would need to pass both the Utah Jazz and the L.A. Clippers to get to the fourth seed. The Grizzlies already won the season series against Utah 3-1, but will need a win against the Clippers on Mar. 9 to tie that series.
So what does it take to win at least 16 games? It will be a tall order. Six of those games will be against those top four seeds, including that scheduling anomaly of facing the Spurs three times in March.
Fortunately, I don't think we've seen the best of what this Grizzlies squad can do. Honestly, despite their record, I like their chances of a deep playoff run better than the Clippers, Jazz or even Houston.
Here are a few keys to winning at least 16 more games and building momentum for a (hopefully long) playoff run:
Health. Ironically, the most important factor is also the one that no one can control. We shall see if those "scheduled rest" days from earlier in the season pay off for guys like Gasol and Conley. But just like Conley suffered a freak back injury early in the season, ultimately all we can do is cross our fingers and pray for the best.
Conley and Gasol must dominate together. Each has shown they can take over a game. Gasol exploded for 42 points against Toronto on Jan. 25; a few days later, Conley lit up the Phoenix Suns for 38 points. So far in their Grizzlies careers, both players have grown accustomed to setting up their teammates rather than looking for their own shots.
That has to change. With all respect to Tony Allen and Zach Randolph — still key pieces — Conley and Gasol are this generations Stockton-to-Malone. When they learn how to dominate together, the ceiling for the squad gets that much higher.
Free Troy Daniels! There must be a good reason why Fizdale doesn't play Daniels more minutes, given how explosive he can be from the arc. I'm just not sure what it is.
Could be that he's streaky. Could be that he can't guard bigger shooting guards, which would mean more minutes for longer, better defenders like James Ennis III, himself a capable shooter.
But Daniels has that Steph Curry-type ability to instantly stretch a close game to a double digit lead — if he's in the game. He also seems particular deadly from the corners shooting 15-28 (54 percent). More minutes, more corner 3s, please...
Wright stuff. Now that we're finally getting to see a healthy Brandan Wright, we're seeing him run the floor, block shots and dunk lobs from Conley. I'm itching to see how he and Gasol play together in extended minutes.
The Parsons Problem. When his game is on, Chandler Parsons adds a dimension to the team. But when will his game be on? When do you give Parsons' minutes to Ennis or Daniels? It's tough call for Fizdale — one I don't envy a bit.
How will it play out? We'll see, starting on Feb. 24. Until then . . . GRIND ON!