'FinTech': A way to make money from mobile?
Financial technology could be equalizer for people of color.
Richard Prince, The Root | 2/15/2017, 11:24 a.m.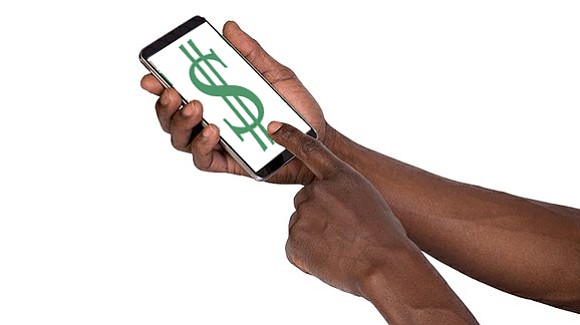 Three consecutive sessions were devoted to monetizing broadband — FinTech.Keenan told Journal-isms by email on Friday, "FinTech issues will dominate the future. We need to prepare people about the options, opportunities and pitfalls."
Some FinTech plans start with the premise that African Americans and Latinos are three times more likely than whites to use mobile as their primary form of broadband.
Those groups are more likely to live in communities that are "underbanked."
One FinTech company has come up with "BLAK Card, "a prepaid debit card attached to a real bank account. Powered by banking technology, it was developed to solve the financial exclusion problem of the Unbanked (and Underbanked) that exists in the U.S. for a group that is mostly comprised of African-Americans and others in the low- to moderate-income urban communities."
Another provides personally tailored financial advice. "MoCaFi Cash Services . . . will provide users with mobile phone access to . . . lower check cashing processing rates than traditional check cashing outlets; allow a user to put funds 'real time' into any bank account that they may have, in a convenient low hassle way. . . ." says this New York company, whose CEO, Wale Coaxum, was part of a panel.
Some are tapping into the growing potential in Africa, which has the fastest growing middle class in the world, according to the African Development Bank.
"Online retail is a booming industry in the U.S. with sales expected to increase by 45 percent this year, but in Africa only about 1% of all transactions happen online," the Milwaukee Community Journal reported in December. "So, two Nigerian entrepreneurs have developed a product that offers a centralized way for African online merchants to accept online payments, and they just received $1.3 million in seed investment to help fund their company which is based in Lagos, Nigeria. . . ."
"Moneywise" host Boston advised conference attendees, "Own a piece of the digital economy. Buy digital stocks."
"This is the wild, wild West of our generation," said panelist Jerry Nemorin, founder and CEO of Oakland, Calif.,-based LendStreet. "This is what is going to save our community."
Patrick Anderson, LinkedIn: Diversity in Fintech: A 15 to 35% Boost In Performance? (Dec. 7)
Rohit Arora, Forbes: Three Tech Trends That Will Impact Small Business Lending (Jan. 3)
Hiawatha Bray, Boston Globe: In Net neutrality fight, broadband's the fix
Mignon Clyburn, Federal Communications Commission: My Personal Story in Search of #PhoneJustice
Michael Connor, Wired: Tech Still Doesn't Get Diversity. Here's How to Fix It
John Eggerton, Multichannel News: Blackburn: Let FCC Make First Move on Net Neutrality
Taryn Finley, Huffington Post Black Voices: Black Banks Are In Decline. This Group Wants To Show How Much They Matter.
Patricia Guadalupe, NBC Latino: Few Latinos, Minorities in Tech, But Shareholders Can Push for Change
dreamandhustle.com: While African-Americans Fight Over How a Movie Flopped, In Africa….. (Oct. 17)
Samara Lynn, Black Enterprise: How to Create Conscious Black Millionaires (Dec. 16)
Samara Lynn, Black Enterprise: A Revealing Look at How Blacks Use Technology (Oct. 18)
Samara Lynn, Black Enterprise: LendStreet Lands $28 Million Funding to Help Consumer Debt (April 12)
Mike "Orie" Mosley, theGrio.com: Chicago just lost its largest black bank and no one noticed
Ken Njoroge, co-founder and group CEO, Cellulant, and Bolaji Akinboro, co-founder and CEO, Cellulant Nigeria: SoFI 2015: Cellulant Keynote Address (video) (Jan. 27, 2016)
Ajit Pai, Federal Communications Commission: Setting the Record Straight on the Digital Divide