The NHL's first black player, Willie O'Ree, had a short, but pathbreaking stint with the Boston Bruins
He didn't tell the team he was blind in one eye.
Daryl Bell, The Undefeated | 2/14/2017, 12:44 p.m.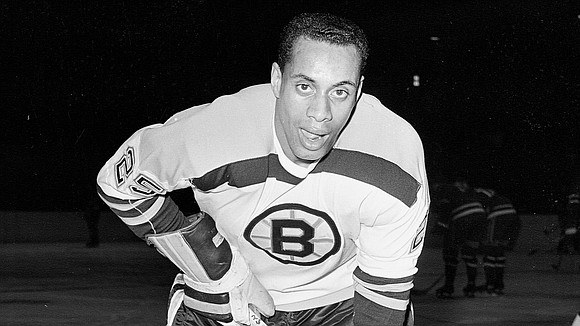 Note: The following first appeared on ESPN's The Undefeated.com.
They call him the "Jackie Robinson of hockey," but to get that honor, it cost Willie O'Ree the sight in his right eye and many nights of racial slurs, threats and fights.
Yet if he had the opportunity again, he wouldn't change a thing. He's now 81-years-young with a memory as sharp as his wit. Today, O'Ree crisscrosses the country to promote a sport that initially didn't embrace him but now recognizes him as a living legend.
"It was the media that gave me the name the Jackie Robinson of hockey," said O'Ree. "It makes me feel good."
O'Ree, who was born in Fredericton, New Brunswick, was playing his second season in the Quebec Senior Hockey League with the Quebec Aces when the Boston Bruins called him up for two games in 1958. That was 11 years after Robinson's historic feat with the Brooklyn Dodgers on April 15, 1947.
The Bruins, who called O'Ree up to replace an injured player, didn't know that he had lost 95 percent of the vision in his right eye two years earlier after getting hit with an errant puck. Had they known of his injury, O'Ree would've never seen a second of ice time in the National Hockey League.
"I didn't tell anyone that I couldn't see," said O'Ree. "My sister, Betty, and my good friend, another black player named Stan Maxwell, were the only ones who knew that I couldn't see. I didn't tell my mom and dad because I didn't want them to worry.
"I didn't let that stop me. Back then, they didn't have physicals like the ones given today. I could still see out of my left eye. I wanted to play and I did what I had to do to compensate for the injury. After being injured, I came back and tried to play as if I had recovered.
"Being a left-handed shot and playing left wing to compensate, I had to turn my head all the way around to the right [and] look over my right shoulder to pick the puck up," he recalled. "At first, I had a little trouble and I finally said, 'Willie, forget about what you can't see. Concentrate on what you can see.' Once I started doing that, my game began to pick up."
On Jan. 18, 1958, an African-Canadian holding a secret that should've ended his career before it started crossed the NHL's color line and played against the Montreal Canadiens, a team he grew up watching.
At the time, the Canadiens were in the third season of a five-year run as Stanley Cup champions. A year earlier, Montreal defeated Boston 4-1 in the Stanley Cup finals. The Canadiens would go on to beat the Bruins 4-2 in the 1958 championship series.
"To me, I didn't know I was breaking the color barrier until the next morning when I read it in the paper," said O'Ree. "When I stepped on the ice on Jan. 18, 1958, we were playing the Montreal Canadiens in Montreal. We beat the Canadiens 3-0, then we got on the train and went to Boston. The Canadiens beat us 5-3 and then I left. I was just there for the two games."