Mitchell, Raleigh Egypt and White Station girls win SCIAA titles
Winners separate themselves from opponents with strong showings.
Terry Davis, Special to The New Tri-State Defender | 2/14/2017, 12:44 p.m.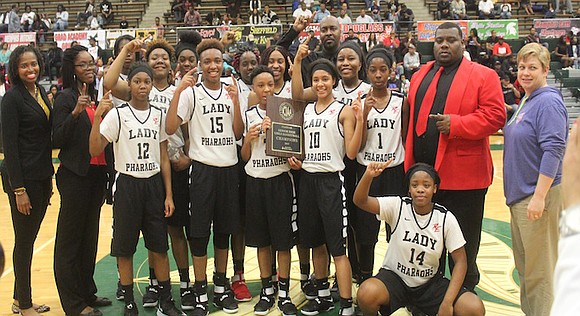 Mitchell, Raleigh Egypt and White Station formed the trio of winners that emerged from the Shelby County Interscholastic Athletic Association (SCIAA) Girls Basketball Championship at White Station High School on Saturday.
Pharaohs rule
In the AA game, the Raleigh Egypt Pharaohs (14-8) defeated the Sheffield Knights (17-5) 53-36. The Knights stayed within range in the first half, trailing 30-24 at halftime. The defense of the Pharaohs took over the game in the second half only allowing 12 points.
The Pharaohs were led by Tashia Bland and Zaykia Head, with each scoring14 points. The Knights were led by Nikita Mays with 12 points.

Pharaohs Head Coach Anthony Jones said, "I try to have my (girls) in the best shape possible. I have good guards that apply the pressure and know the rotation on the pressure. I credit my girls with just believing in me. I play a hard schedule to prepare us for now."
Spartans break away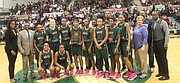 In the AAA game, the White Station Spartans (21-3) defeated the Ridgeway Roadrunners 54-26, jumping out to an early lead and never having to look back.
The Spartans took a 30-10 lead into the halftime break. They were led by Zaire Hicks' 12 points and Damiah Griffin's 14 points.
The Roadrunners (14-6) were led by Elizabeth Dixon and Mericle Hall.
Spartans Head Coach Tommy Warren said, "We started out slow. Once they got going they stayed at a consistent level. I'm proud of that. You can easily drop off when you get a big lead. They stayed focused all the way to the end."
Mitchell's talent tells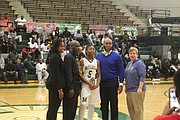 In the opening single A game, the Lady Tigers of Mitchell defeated the Lady Warriors of Booker T. Washington 74-49. The game went back and forth for the first period, with the Tigers holding a 15-11 lead. The more talented Tigers took over the game in the second period outscoring the Warriors 25-12 to take a 40-23 lead into the half.
The Tigers (23-3) were led in scoring by sophomore forward Vertonia Bady with 23 points. Sophomore guard Miata Borders and senior guard Derinisha Taylor both had 17 points.
The Warriors were led in scoring by junior forward Derrinesha Jackson with 23 points and junior guard Carnessia Griggs with 11.
"We just kept playing," the Tigers' Head Coach Derek Hunter said. "We are a little rusty. We have not played a game since January 29. We continued to play."
This is the third year in a row that the Tigers have won the SCIAA Championship.