Boys at Douglass, East and Mitchell win SCIAA basketball championships
Prep hoop fans turn out in big numbers to see the battles for bragging rights.
Terry Davis, Special to The New Tri-State Defender | 2/14/2017, 12:43 p.m.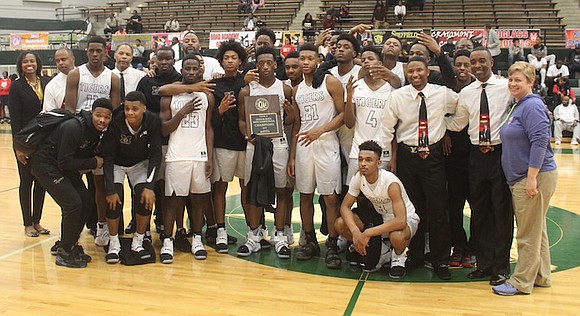 The Shelby County Interscholastic Athletic Association (SCIAA) held its annual Boy's Championship games this past Saturday at White Station High School. The gym was filled to capacity as six teams, two from each class level, battled for bragging rights.
In the single A game, the Mitchell Tigers (13-4) defeated the Grad Academy Griffins (15-2) 67-48. The Griffins started the game with a 4-0 lead, but the Tigers came back with vengeance. After going on an 18-1 run to close the quarter, the Tigers never looked back.

The Tigers took a 24-15 lead into halftime and kept the Griffins at a comfortable distance. The Tigers were led by senior guard Dwayne Nicholson with 13 points and senior guard Moe Sanders with 15 points.
Tigers head coach Andre Turner said, "A lot of work has been put in by these guys and a lot of patience has been displayed by the coaches as well. Winning is a journey and it is worth it. There is still a long journey ahead and this is just one step for us. This (winning) never gets old, but it (winning) gets fresher every year."
Douglass rolls
In the AA game, the Douglass Red Devils (18-3) defeated the Craigmont Chiefs 64-51. Both teams held onto slim leads until the Red Devils pulled away from the Chiefs late in the final period. The Red Devils were led by county leading scorer Paris Hewitt with 23 points. This is also the Red Devils first SCIAA championship.
Douglass head coach Gregory Williams said, "We've played this team three times and we knew that they would come ready to play. Coach David Taylor has done a marvelous job with his team and we knew that we had to play. Paris Hewitt, we are pushing him to be 'Mr. Basketball' in AA. He should be 'Mr. Basketball' already. He has done everything that we have asked him to do, and he has done it with a smile on his face. He is a mannerable young man and he is a joy to coach."
East dominant
The AAA game was a rematch of the state Tennessee AAA Boy's State Championship from last season when East prevailed to become defending state champions. The Mustangs got out to a big lead early and controlled the game with little resistance from the Cordova Timberwolves 75-52.
The Mustangs had leads in the second half of 30 points on a couple of occasions. The Timberwolves were expected to give the Mustangs their toughest game in the city, but that was not the case. East has defeated all local opponents by double-digits.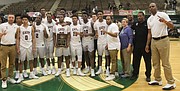 The Mustangs were led by sophomore forward Chandler Lawson with 17 points and junior guard Terrance Moss with 18 points. The Mustangs are ranked 20th in the nation in the Max Preps Boys High School poll. Cordova was led by junior forward Rodgerick Brown with 16 points.
East head coach Penny Hardaway was not pleased with his team's performance. Hardaway said, "We had a good first half but the second half was no good. We didn't match their intensity in the second half and that is not acceptable. We have to keep working hard in practice, and hopefully it will carry on into the game."