14 healthy ways to love yourself all year long
BlackDoctor.org | 2/14/2017, 12:45 p.m.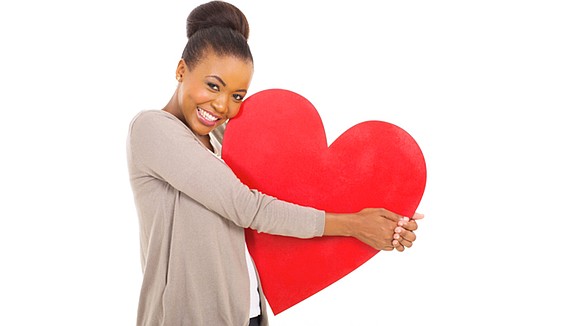 Happy Valentine's Day! You might be counting down the hours until it's time to celebrate with your honey, or you're desperately trying to avoid the Valentine's aisle at your local drug store. However you feel about the day of love, you can use the holiday as a much needed reminder to bask in some self love. In honor of the holiday, Sharita Jennings, trainer and blogger at GetFitLikeThat.com, has 14 healthy ways to love yourself for Valentine's Day and all year long.
Write Self-Love Notes. Love notes aren't just for your special someone. Self-love through affirmations and positive thinking can actually be good for overall health and mental performance. According to psychologist, Carmen Harra, "much like exercise, [affirmations] raise the level of feel-good hormones." You can practice this by listing out the things you love about yourself in a letter or card. Read it and add to it often!
Massage Away the Stress. Stressing out and living a mostly sedentary lifestyle can cause you to hold carry extra tension in your muscles. A deep tissue massage can release tension and help you get moving with less pain!
Find Love Outdoors. Your very own city could be home to a beautiful national park or other hidden neighborhood treasures. Check out FindYourPark.com to find a new trail right around the corner.
Try a New Workout. This year, you may fall head over heels (hopefully not literally) for a brand new workout. Switching up your sweat sessions can keep you from plateauing and help you reach your very own body goals.
Get Dressed Up… For The Gym. Whether or not you have a hot Valentines date this year, you can find a reason to spoil yourself with new clothes. According to Women's Health, new workout clothes can actually motivate you to workout! So splurge a little to look your best for your next date with the treadmill.
Plan A Family Fitness Day. Being active doesn't have to be a single's event. You can plan an active day with your family or friends. Think back to grade school with field days where teams competed in 3 legged races and potato sacks. Or maybe a game of basketball or football is more your speed! Just get moving and bring others along.
Unleash Your Inner Beyonce or Bobby Brown. Dancing may not be at the top of your to-do list, but letting lose in a dance class or at the club can shed calories, help you destress and maybe even impress your future Valentine.
Heat Things Up in the Kitchen. Cooking for yourself or for bae is a healthy treat because pretty much anything you make in your kitchen will be healthier than eating out. Learning what goes into your dishes can also help you make healthier food choices in the long term, and of course you can impress your love by throwing down in the kitchen.
Knock Your Own Socks Off. Pick a physical activity and go above and beyond your normal level. If you're a runner, go to a new distance you never thought you'd finish. If you're a yogi, nail that headstand you've been working towards. If you're a walker, try a challenging hike with huge hills and all. You'll give yourself the best gift-a boost of self-confidence!
Flex Your Heart Muscle. For Valentine's Day or any day, you can spread a little love by mentoring, feeding the less fortunate, or hanging out with the seniors. You might not work up a sweat, but you'll certainly bring some joy to others and yourself in the process.
Get Some Quality "Me" Time. While it can be good for your mental health to be around those who you love, don't forget to spend some time with yourself! A few hours or a whole weekend to yourself can help to decompress and prepare you to be your best self at work and at home.
Embrace Your Inner Dare Devil: While all "dare-devils" are not created equal, the idea here is to conquer a fear, no matter how big or small. Facing your fears can make you stronger from the inside out. So go skydiving, sign that song at karaoke, or anything that makes your heart race!
Get Handsy. Valentine's is a great time to get creative with your hands. Unleash your crafty side with painting, pottery, gardening, or anything you can think of. Arts and crafts are excellent for your mental health, and can improve your creativity in every part of your life.
Give Yourself Something to Look Forward To: Planning a trip, signing up for a race, or scheduling a reunion with your old friends can give you some much needed motivation to make it through stressful days. You'll have more reasons to smile long after Valentine's Day.