A Tribe Called Quest, Chance the Rapper, Beyoncé, Bruno Mars and the Time resuscitated the Grammys
Yesha Callahan, The Root | 2/13/2017, 12:54 p.m.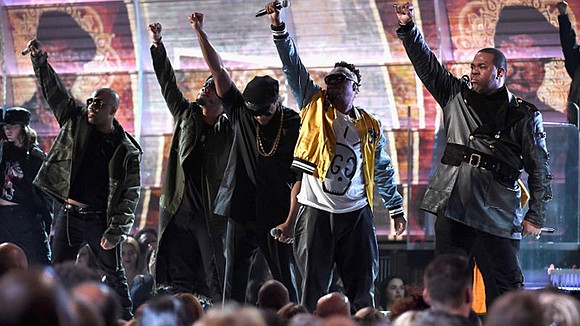 Whether they were showing us how magical black women can be, making political statements, paying homage to a G.O.A.T, or taking your ass to church, the black artists who performed at Sunday night's Grammys gave the world something to talk about.
I praised sweet baby Jesus for allowing Beyoncé to perform within the first half hour of the extremely long award show, because The Walking Dead was back. And, of course, as we all probably know by now, Beyoncé did not disappoint, as usual.
Find me another woman who can levitate backward in a chair while carrying twins? Yeah, good luck with that one. Whereas some just saw the Queen Bee in gold adornments, others knew exactly whom she was channeling. With references to Oshun, the Yoruba orisha of fertility and love, Beyoncé stayed with the Yoruba themes displayed all throughout the videos for Lemonade.
Between flipping back and forth between the crappy episode of The Walking Dead, I practically jumped out of my seat when A Tribe Called Quest, along with Busta Rhymes and Anderson .Paak, performed. With the biggest political statement of the evening, with the performance of "We the People," it's safe to say the "Fuck Donald Trump" sentiments were heard.
"I wanna thank President Agent Orange for perpetuating all the evil that you've been perpetuating throughout the United States," said Busta Rhymes.
"I wanna thank President Agent Orange for your unsuccessful attempt at the Muslim ban," he continued. "But we come together. We the people!"
During their performance of "We the People," a black wall of styrofoam was kicked down as people of all nationalities joined them onstage for their message of resistance.
From their performance, we were blessed with not only a tribute to Prince, done by the Time and Bruno Mars, but Chance the Rapper, along with Kirk Franklin and Tamala Mann, took everybody to church.
On Oct. 8, 1985, a doctor slapped Peter Gene Hernandez's ass and probably said, "Boy, you're going to pay tribute to Prince sometime in your life, so you better start practicing."
It was as though Bruno Mars had been preparing for that moment for his whole entire life, because what he did Sunday night was nothing short of perfection. It was a true tribute without feeling like karaoke night at your local bar. From the purple outfit, to the eyeliner, Bruno Mars knew he was making Prince proud as he performed "Let's Go Crazy."
But even before Bruno Mars stepped onstage, there was the Time, the band Prince put together around singer Morris Day in 1981, doing an abbreviated medley of two of their hits.
Not only did he bring praise and worship to the Grammys, he made history. Chance became the first artist to win a Grammy without selling physical copies of his music—or selling much of his music at all. Even Barack Obama was like, "Boy, what are you doing not selling music?" But if awards were his goal, it looks like it paid off. Chance won for best new artist, best rap album and best rap performance.
"This is for every indie artist!" Chance shouted after winning best rap album for his May 2016 gospel-infused hip-hop mixtape Coloring Book.
This year's Grammys proved that black artists aren't afraid to raise their voices, make a statement and be heard. Even if it means they won't exactly be rewarded for it by the Recording Academy the way they deserve.