Army gives OK to dreadlocks/locks for female soldiers
New directive reflects a twist in thinking about regulation.
Karanja A. Ajanaku, kajanaku@tsdmemphis.com | 2/11/2017, 8:51 a.m.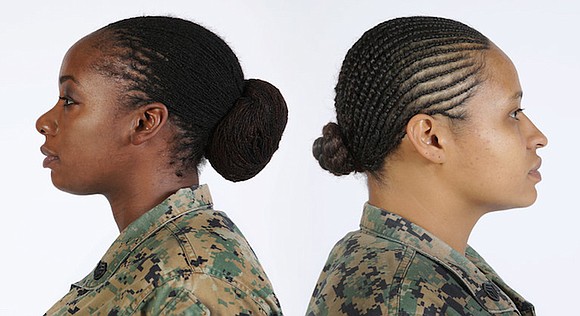 Tucked within an Army directive issued in January is language that frees female soldiers up to wear "dreadlocks/locks."
"Female soldiers may wear dreadlocks/locks in accordance with the guidance in paragraph 3-2a(3)(f) for braids, cornrows, and twists."
Say what?
The ban on female soldiers wearing "dreadlocks/locks" had put servicewomen such as Staff Sgt. Chaunsey Logan in a bind. She learned of the new Army directive when a friend sent her a screenshot of it via Facebook.
"Y'all, I had to read that s… about three, four, five times," Logan said in a video that she posted. "I was like, 'Is this a Joke?'"
Logan said she got into Article 15 trouble for refusing to cut her hair. Found guilty and with her punishment suspended for 10 days to give her time to comply, she found a loophole by making use of twists that did comply with regulation.
"I didn't win that battle. God won that battle," Logan said in her video. "Although I walked away from that with my hair, my rank, my career, I still had a dark cloud over my head. I was constantly worried that somebody was going to bring this up again…Lo and behold I get this news today.)
According to the Army Times, 1st Lt. Whennah Andrews, who services in the District of Columbia National Guard, sought "an exception to policy" last year. She did so after collaborating with Nikky Nwamokobia to create a YouTube video "on the viability of locks in the Army," the Army Times reported. Nwamokobia operates a YouTube channel focused on natural beauty.
Andrews reportedly drew inspiration from Marine Corps Staff Sgt. Cherie Wright, who blazed the trail on getting locks in that branch of service.
"When I was going through this process, I just kept thinking about the females that were going to come after me," Andrews told the Army Times.
Army brass made no comment about the video or any effect it may have had, " according to the Army Times, which did report that Army officials confirmed that the subject of locks was part of a working group discussion regarding religious headgear and beards. From that came the change, the officials confirmed.
Writes the Army Times: "Army Regulation 670-1 allows women to wear their hair in long, twisted "locks," as long as the strands are less than 1/8 inch wide, the scalp is in a uniform grid, and, when gathered, the hair fits into the required bun size of 3 1/2 inches wide by 2 inches deep."
(To read the Army Times' full account, visit http://bit.ly/2ltgW5b.)