Edkedsha Mathis Is on a mission to increase supplier diversity at Volkswagen
Mathis: 'The only barrier between yourself and success is you.'
Stacy M. Brown, NNPA Newswire Contributor | 2/2/2017, 8:50 a.m.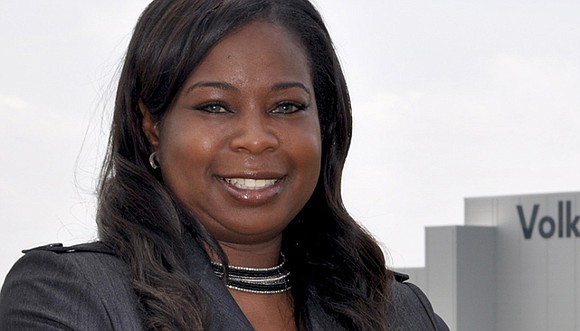 As the Supplier Diversity Manager at the Volkswagen Group of America's plant in Chattanooga, Tenn., Edkedsha Mathis said she relies on a concept called the three A's: Aim high, apply yourself and achieve your goals.
Mathis, whose supplier diversity position falls under the company's purchasing department within the Chattanooga Plant location, which employs about 2,800 workers, said that her concept is rooted in the philosophy that credibility is built on results and leaders that achieve by doing and not just advising.
"As a young adult venturing into the business world, I had a road map and goals. One year, three years, five years and 10 years," Mathis said. "That's something you need to stick to. Make two road maps, one for yourself on a personal level and a professional one to present your leadership as the path that you want to follow."
Mathis continued: "When you are in your evaluations with leadership, you can show them this is where you are and this is where you want to be; advise your leadership that you need their guidance and support to meet these goals."
For Mathis – whom colleagues and family members affectionately call "KeeKee," – mentoring and offering advice to young women, minorities, and anyone within the diversity community is one of the traits she's demonstrated as she's helped Volkswagen's Supplier Diversity Program remain one of the most successful in the world.
Born and raised in Chattanooga, Mathis has been with Volkswagen for eight years and she has more than 20 years of experience in purchasing, which includes supporting as a regional buyer, service buyer, supply chain support, key user for all of the purchasing systems and lean management.
Previously, she worked for 13 years as a buyer for the Wrigley Company.
"There's nothing to fear, but fear itself," she said. "The only barrier between yourself and success is you. No one can stop you from what you want to accomplish, but you."
The powerful principles of diversity and inclusion — which promotes superior performance and competitive advantage — has helped Volkswagen Group of America create an environment where everyone can feel respected and appreciated, company officials said.
Mathis said much of her job is spent traveling and engaging with minority and diverse suppliers as executive leaders in the company participate each year in a diversity strategy conference to help shape Volkswagen's diversity initiative.
Through Volkswagen's Diversity Outreach initiative, the company has continuously sought opportunities to partner with community and diversity based organizations like the National Urban League, Out and Equal, the National Association of Minority Automobile Dealers (NAMAD), the Tri-State Minority Supplier Diversity Council (TSMSDC), National Minority Supplier Development Council (NMSDC), and The Chattanooga Chamber.
"I closely coordinate with buyers and purchasing managers to ensure we have inclusion of our diverse suppliers within our purchasing processes," said Mathis. "Diversity represents a different range of categories including minority-owned, women-owned, veteran-owned and LGBT."
Mathis continued: "And, it's not only identifying these suppliers, but mentoring and developing them to make sure they have the capabilities needed by Volkswagen."