Hate unmasked is all too familiar to Irvin C. Walker Jr.
Erica R. Williams, Special to The New Tri-State Defender | 8/25/2017, 1:28 p.m.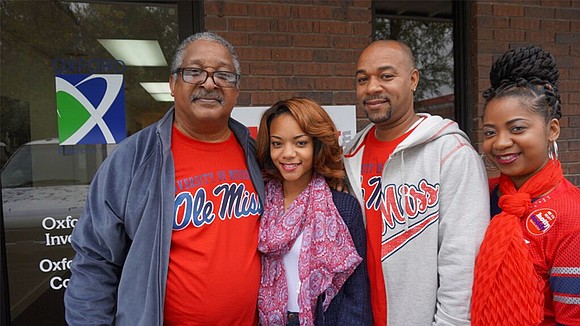 "We have somehow reversed history," 71-year old Irvin C. Walker Jr., a former civil rights activist said, referencing the widespread rallies across the country spearheaded by white supremacy groups.
Walker, who played a pivotal role in the Mississippi civil rights movement, knows firsthand what it means to experience racism; but this time he said it's even more disturbing.
"In the 60's when we faced members of the Klu Klux Klan, they hid behind the white suits," he said. "But today these people have no fear. They are not hiding behind masks and are out front with their hate."
Walker, who now lives in Memphis, was the first African American to enroll at the University of Mississippi (Ole Miss) without a court order or federal protection. Three other black men were admitted into the school before him under court orders: James Meredith, Cleve McDowell and Cleveland Donald.
"They didn't want us there," Walker recalled. "I remember sitting in the back of the class, and even then the seats next to me were empty because none of the white students wanted to sit by me."
Walker said he and the other black students encountered verbal harassment every day, being called the N-word by their peers. Still, it wasn't enough for them to give up and leave the university.
"We chose to attend the school because of a commitment to the civil rights movement," he said. "And I'd promised Medgar Evers that I would go to Ole Miss after I finished high school."
Notable civil rights leader, Medgar Evers didn't live to see Walker break down racial barriers. He was assassinated by Byron De La Beckwith, a member of the White Citizens' Council, in 1963.
"His death was very hard for us," Walker said. "But we knew we still had to fulfill our promise to him."
Walker credits his family for his courage and commitment to the civil rights movement, emphasizing that his mother instilled in him the importance of education and equality. Despite the obstacles, he went on to graduate from the University of Mississippi and worked as an executive for the Urban Leagues in both Jackson and Chicago. In 1972, he became the youngest executive of an urban league affiliate at 26 years old.
Quickly becoming a reputable local civil rights leader, Walker said he'd planned to attend law school at some point in his career; but a run-in with the law put a halt in his plans. In 1985 he was charged with possession of a controlled substance. He served two years in prison.
"It was a fall from grace," he admitted. "That situation kept me from being gainfully employed or politically active. I know I would have been in politics if it hadn't happened."
Walker went on to become a businessman, working in family-owned establishments in Jackson; but his passion for civil rights is still evident as he spoke about the recent demonstrations of racism spreading across the county.
"The election of Donald Trump has ignited it all. White supremacists now feel like they have a friend in the White House," he insisted. "I thought all of this was behind us, but instead it just went underground for a while."
More rallies are scheduled to take place across the country. Despite the divisive demonstrations, Walker said he doesn't believe the civil rights movement in the 60's was in vain.
"We marched for causes that brought us farther along in the fight for equality," he said. "If it weren't for the Civil Rights Movement, we wouldn't be able to vote or have many of the rights we possess now."
According to Walker, progress can only be made if people begin to fight the laws that he believes are meant to be economic barriers for people of color. Although his career in politics was disrupted and he is longer actively fighting for civil rights, he said he'll continue educating those around him on the importance of voting and social activism.
"I never thought I'd be having these conversations in 2017," Walker said. "But I haven't given up hope. I believe it'll get better."