City Council mulls ways to deal with Confederate statues
Montee Lopez, Special to The New Tri-State Defender | 8/24/2017, 11:27 a.m.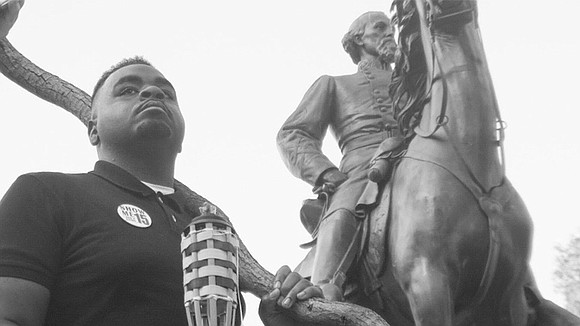 Memphis City Council members have now tasked city attorney Allan Wade with drafting a resolution that lays out all possible options in removing the statues of Nathan Bedford Forrest from Health Sciences Park and Jefferson Davis from Court Square in Downtown Memphis.
What Wade comes up will be a much-anticipated item of discussion at the Council's Sept. 5 meeting.
"We want to do things lawfully, we want to do things in order, but we also want immediate gratification," City Council Chairman Berlin Boyd (District 7) said.
The floated options and considerations include:
Destruction of the monuments;
Sale of the monuments;
Securing a waiver from the Tennessee Historical Commission'
Temporarily boarding up of statues while city leaders hash out the Confederate statue controversy.
Boyd brought the matter up as an addendum for this week's executive session. The backdrop is a week filled with protests both locally and nationally concerning the removal of Confederate monuments.
"Most of those monuments were built in the sixties during the civil rights era to say, 'Hey, we once enslaved you, we can put you back in slavery,'" Boyd said during a passionate pitch.
He passed out flyers created by Forrest more than 150 years ago advertising the sale of slaves. Boyd said his resolve became even stronger after a woman gave him a flyer with Nathan Bedford Forrest on it and said, "because of this, you have civil rights."
"I told her, 'how dare you give me, an African-American male, a piece of paper that literally insults the hell out of me," Boyd said. His response to the woman was a vow to do "everything in my power to see that statue and that monument removed."
Easier said than done.
"It's probably easier to have someone executed by lethal injection than to get a waiver from the Tennessee Historical Commission," Wade said.
The City of Memphis wants the Tennessee Historical Commission (THC) to approve a waiver to remove the Forrest statue when it meets on October 13. The process, however, can be lengthy.
"There are people who sit on the Tennessee Historical Commission who are members of the Sons of Confederate Veterans," said Wade, referencing an additional hurdle the city would face in getting a waiver.
Reviewing arguments the City Council might possibly make in the interest of removing the statues, Wade discussed making the case tat statues are public nuisances to African-Americans in the city.
"It's public property," Boyd said. "If you think it's OK to have that type of monument around, then you should do it on your own personal private property, not in the city park."
The Council is on board with removing the statue, however, members want to make sure they follow proper protocol – and not waste any expense in doing so.
"I'd like to get back to focusing on the living and not the dead," Councilman Worth Morgan (District 5) said, bringing to attention the amount of overtime being spent on police officers "babysitting two statues."
Local activist Tami Sawyer, out front among the many faces of #TakeEmDown901, attended the executive session. Sawyer brought a petition she said was signed by 4,500 Memphians who want the Confederate monuments removed. She's been working the petition since June.