READER'S CORNER
Phyllis R. Dixon, Special to The New Tri-State Defender | 8/12/2017, 11:08 a.m.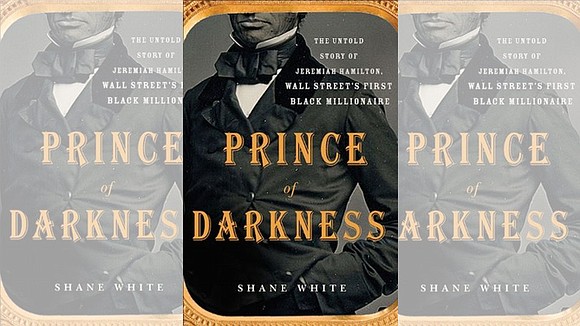 With a bow to the Tony Award winning play "Hamilton" and the renewed interest it has generated in Alexander Hamilton, the first Secretary of the Treasury and the founder of the nation's financial system, there is another financial pioneer named Hamilton that you should know: Jeremiah G. Hamilton – at one time the richest black man in America.
Actor Don Cheadle recently announced that he has acquired the film and TV rights to "The Prince of Darkness, The Untold Story of Jeremiah G. Hamilton, Wall Street's First Black Millionaire" by Shane White. He will produce and star in a movie based on Hamilton's life.
At a time when black people were barely allowed to cook and clean on Wall Street, Mr. Hamilton was wheeling and dealing, with an estate estimated to be worth $2 million at his death in 1875 (over $43 million in today's dollars).
Jeremiah G. Hamilton lived a controversial life and was considered a shrewd businessman by some and a shady crook by others. Newspaper nicknames ranged from "The Prince of Darkness" to "Nigger Hamilton." He loaned money to whites, bought and sold real estate and hired Irish immigrants as servants. He owned stock in railroads, whose trains he was forbidden to ride, and even sued white men in court – and won.
Hamilton's beginnings are unclear. He was either born in Haiti, Puerto Rico, Cuba or Virginia. He seemed to use the locale that best suited his purpose at the time. Given the prejudice against American blacks, it was to his advantage to claim a foreign heritage.
Despite his attempts to distinguish himself, he endured constant racism and intimidation. He was banned from trading on the stock exchanges and often had a white person transact his business. Rioters broke into his grand brownstone in 1863, but his wife (who was white) had been warned and made sure he was not home.
Reportedly, he initially made his money by transporting counterfeit coins from Canada to Haiti for powerful white New York merchants. He was involved in various deals from insurance brokerage (some said it was insurance fraud) to real estate investing and development.
Hamilton went from rags to riches a few times, clashed with business magnate Cornelius Vanderbilt over a business deal and even brawled with a judge who he felt disrespected him. Despite the many obstacles he faced, he was determined to succeed on his own terms, and he did not believe in turning the other cheek.
In addition to Hamilton's story, this book is worth reading to get a view of race relations in the North. Slavery ended in New York in 1827, but it was not the promised land. We were still expected to know our place, stay in it, and be thankful to be there. One newspaper article framed it this way: "Instead of thankfulness for their redemption, they have become impudent and offensive…"

New York City was a stop on the Underground Railroad, but not a destination. Black people were often victims of the fugitive slave law, and were kidnapped there and sold into slavery in the South. The city's bustling economy was dependent on slavery as its banks financed southern planters and northern manufacturers that sold goods to the planters, as well as the ships that transported the three most profitable cargo: sugar, Africans and later cotton.
In the 1860 election, Abraham Lincoln only carried one-third of the city's votes, with some advocating for New York to secede from the Union.
Hamilton was not a "race man" as they were called in those days. As far as we know, he was not an abolitionist, did not advocate for equal rights nor donate time or money to causes to improve black people's plight.
Unlike today, when wealthy people often are idolized, many black people criticized his pursuit of money as greedy and undignified. All his deeds may not have been admirable, but neither were those of the other capitalist tycoons who are credited with building America.
"The Prince of Darkness, The Untold Story of Jeremiah G. Hamilton, Wall Street's First Black Millionaire" won't leave you with a warm and fuzzy feeling about Hamilton. But you likely will respect his ambition and nineteenth century swag and wonder why you haven't heard of him before.