First day signals a new day at Dunbar Elementary
Lee R. Watkins, Special to The New Tri-State Defender | 8/10/2017, 11:33 a.m.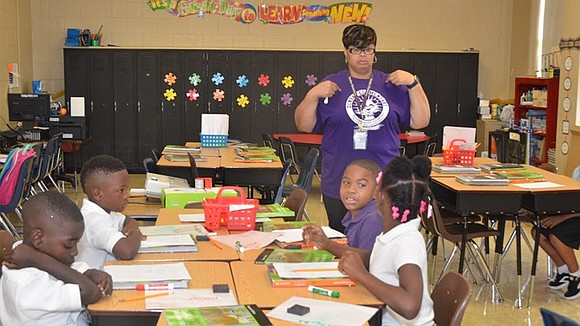 When the future of your school has been resurrected from the grave list of schools targeted for closure, the first day of the new school year warrants the kind of red-carpet treatment students and parents received at Dunbar Elementary School on Monday.
The special visitors to the school at 2606 Select Ave. included Shelby County Schools Supt. Dorsey Hopson, former Mayor A C Wharton Jr., Bishop Henry M. Williamson Sr. (presiding Bishop of the First Episcopal District of the Christian Methodist Episcopal Church), other faith-based leaders, and the Grizzlies drum line.
Dunbar and several other schools were slated to shut their doors for the 2017-18 school year. Hopson later decided to remove Dunbar from the list.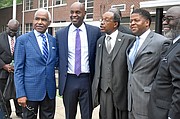 "I'm very impressed with Dunbar, it really shows what can happen when the community comes together and gets on the same page," Hopson said.
"We actually talked about closing this school last year, but because the groundswell of community support and the dedication to make this school a much better learning environment for student outcomes, we decided to give them a shot."
Williamson, who had issued a "Calling All Men" summons to SCS schools on the first day, encouraged students to do their best while focusing on the task at hand.
"This is the first inning of a nine-inning game," Williamson said. "We are not going to stop. This is just a great beginning."
Anniece Gentry, Dunbar's fourth-year principal, said. "This is the year everything is given to me."
Hopson, Gentry said, "has kept to his promises about making sure this school does well. I'm looking forward to all the resources and support that we have. I shared to the teachers that we will be held accountable because we have more than enough for our scholars to succeed."
Ginger Phillips, who attended Dunbar from kindergarten to sixth-grade, was back with her daughter, Ginelle Davis, who was starting kindergarten.
"My first child went here from kindergarten to fifth-grade," Phillips said. "It's a family tradition. Since I'm still in the neighborhood, I wouldn't really want them to go nowhere else because this is what I know."