What if it wasn't all a Dream (Team)? Five 1992 Olympic what-if scenarios — 25 years later
Justin Tinsley, The Undefeated | 8/8/2017, 11:51 a.m.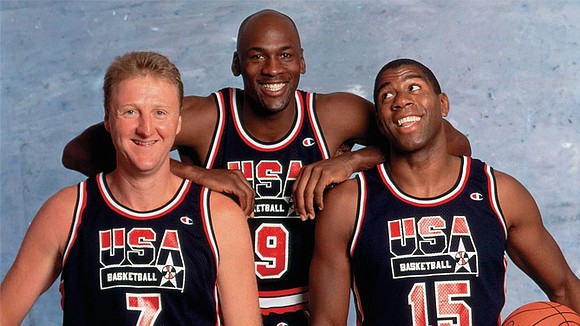 What if Michael Jordan had stuck to his word and not played in the 1992 Olympics?
Let's get the elephant out of the room. The Isiah Thomas/Jordan factor was a real issue — a beef with origins in the 1985 All-Star Game, known in hoops circles as the "freeze-out game." How do we know Jordan didn't want anything to do with Thomas as a teammate? He said it himself. "That was one of the stipulations put to me [on the team] — that Isiah wasn't part of the team," he said in a 2012 Dream Team documentary. The Thomas exclusion remains a thrilling subplot of '90s basketball because of how the selection committee did whatever it had to do to get Jordan while sacrificing Thomas.
The Detroit Pistons' floor general wasn't one of the first 10 players selected. The Olympic selection committee began choosing players shortly after the 1991 playoffs ended. It was in those same playoffs that the Pistons, swept by Jordan and the Chicago Bulls in the Eastern Conference finals, infamously walked off the court before time expired in Game 4. Thomas was seen as the linchpin in one of the most infamous examples of pettiness in sports history. But even with Thomas on the outside looking in, Jordan still wasn't a lock. Peep the timeline:
April 1989 — Jordan says he's not interested in playing in the Olympics again (he won gold in 1984). The thought of giving up another summer didn't appeal to him.
May 1991 — In one of the more revealing yet often forgotten interviews of his career, the '91 MVP once again states his hesitation to Pat Riley. The season was long enough, and adding the Olympics would only shorten recovery time. But he doesn't slam the casket shut either. "The only reason that I would wanna go is," he says, only semi-joking, "if we feel that we certainly can't win with the team we put out there."
"Do you want to watch the best players beat everyone else?" It turns out the answer was a resounding yes.
July 30, 1991 — Agent David Falk denies that both of his clients, Jordan and Patrick Ewing, are undecided about what to do the next summer.
Aug. 1, 1991 — Playing in his first competitive golf tournament at the Western Amateur in Benton Harbor, Michigan, Jordan seemingly deadens any hope of Olympic dreams. "There are a lot of professionals who want to play and, being that there are a lot of professionals that haven't played — and I've played — I don't mind giving the other guys an opportunity," he says. "Right now it's a closed door for me." For the golf aficionados wondering, he shot an 85 that day.
Aug. 10, 1991 — "I'm working on him," Magic Johnson says. "I even told him I'd give him a million dollars if he'd do it. But so far he hasn't changed his mind."
Aug. 25, 1991 — Few remember the attacks on Jordan's patriotism because of his reluctance to play in the Olympics. Three weeks after his statement about sitting out, Jordan reconsiders, promising to make the decision in a few days but saying it would be his and his alone. "Not one forced on me by what somebody else says or wants," he said.