What if it wasn't all a Dream (Team)? Five 1992 Olympic what-if scenarios — 25 years later
Justin Tinsley, The Undefeated | 8/8/2017, 11:51 a.m.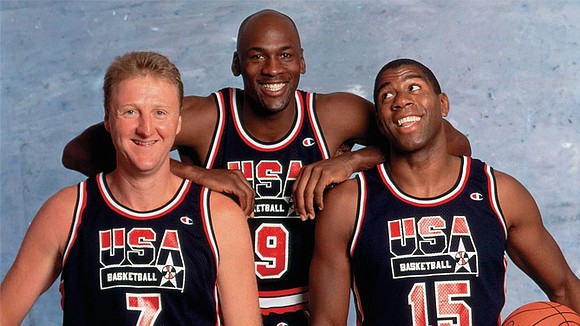 Want to feel nostalgic? Great. Better yet, want to feel old? Twenty-five years ago today, the 1992 U.S. men's basketball team won Olympic gold. Canonized as "The Dream Team," the squad curb-stomped an entire world of competition, and its international impact is eternal.
The Dream Team opened the NBA's door into China — and the world's love affair with the game of basketball. Their Olympic tuneups weren't as much games as they were red carpet ceremonies as they laughed, galloped and, in Toni Kukoc's case, smothered the life out of opponents, beating them by 44.3 points per game — second only to the 53.2-point margin of the 1956 squad anchored by Bill Russell. The Dream Team's song is one to which the entire world knows the lyrics — thanks to the documentaries, features and books in the quarter-century since their summer excursion. But even a crew with some of the game's most iconic names — Michael Jordan, Magic Johnson and Larry Bird — isn't immune to the "what if" game. It makes for a psychedelic voyage into a parallel universe.
What if Team USA had taken gold in the 1988 Olympics in Seoul, South Korea?
This is, by far, the most important question involving The Dream Team. America winning bronze in the '88 Games was a watershed moment. The Soviet Union defeated the United States 82-76 in the semifinals (there's a Russia/America-beating-us-at-our-own-game joke that will not be told right now). Up until 1988, only collegiate players were allowed in Olympic play. That talk soon shifted. "Personally, I would like more of a chance to compete," Team USA and then-Georgetown head coach John Thompson said. "I'm also an advocate of professionals playing in the Olympics."
Not everyone was for the change. Bill Wall, executive director of the United States Amateur Basketball Association, touched on philosophical issues: "Do you want to watch the best players beat everyone else?" It turns out the answer was a resounding yes. In Munich, on April 7, 1989, FIBA voted 56-13 to allow pro players to participate.
Many, like Boris Stankovic, FIBA's secretary general, saw it as Olympic basketball's "triumphant entry into the 21st century." Stankovic was a chief proponent of allowing NBA players access, as they were the only professionals barred worldwide. One of its most vocal critics, however, turned out to be the United States Amateur Basketball Association, which took the stance that pro players' involvement eliminated its opportunity to participate.
So, did America's bronze medal showing in the '88 Games lead directly to the introduction of NBA players? Perhaps not 100 percent, but it undeniably aided a process already in motion. Put it this way: If anything defines Big Sean's Last night I took an L, but tonight I bounce back, it's Team USA basketball 1988-92. It's also fair to say that if America had won gold in 1988, the push for NBA stars may never have happened.
NBA players in the Olympics are the norm these days, but in the immediate aftermath of the decision, the desire to play was slightly better than 50-50. Superstars such as Isiah Thomas, Magic Johnson and Karl Malone didn't hide their excitement. "[I'd] go in a heartbeat and pay my own ticket," Malone said. But a 1989 poll revealed only 58 percent of NBA players would play if afforded the opportunity. The biggest one to say no? Jordan. Which brings us to the next point …